This is an archived article and the information in the article may be outdated. Please look at the time stamp on the story to see when it was last updated.
Thanks for taking a few minutes and reading the FOX 4 Weather Blog. Just a spectacular afternoon out there with temperatures approaching 70° as of this writing and clear blue skies. We could actually use the dry times locally and northwards. Areas farther south of KC towards the Lake Of The Ozarks region though still need more moisture and we may try to catch them up early next week.
Forecast:
Tonight: Clear and cool with lows in the 50s
Friday: Sunny>increasing clouds. Windy and warmer with highs 75-80°. Thunderstorm chances for KC will arrive between 5-9PM then move away. Chances will be earlier in the mid afternoon across NW MO. These storms may impact the Royals game (very early)…but shouldn't cancel it.
Saturday: Variable clouds and chilly for May with highs 55-60°. A few sprinkles can't be ruled out but the rain amounts would be very light and IF it happens would occur mainly before lunch I think. Rockfest should be in OK shape especially in the evening but it will be rather cool.
Sunday: Partly cloudy and cool with highs in the 60s
Discussion:
The satellite picture today says it all for the KC area…glorious sunshine.
IF you look closely towards NE TX and into central AR…the front that came through here yesterday has pushed down to there. This is allowing drier air to continue to move through the KC area…contributing to the nice weather locally.
Farther to the south though, on the other side of the front the higher dew points (in green on the next map) shows where the surface moisture is sitting.
Notice the dew points in the 60s (green numbers) in AR and central and northeast TX? That is the surface moisture.
The moisture to our south will play a vital role tomorrow afternoon in determining how widespread and strong the thunderstorms are locally when our next cold front arrives later tomorrow evening
Here are 2 interesting maps…they show the surface pattern and what I want you to look at are the streamlines showing the air flow. They are the somewhat faded lines with the little arrows on them.
Now take a look at the model forecast for Friday afternoon…notice the streamlines are now showing the air coming up from the south.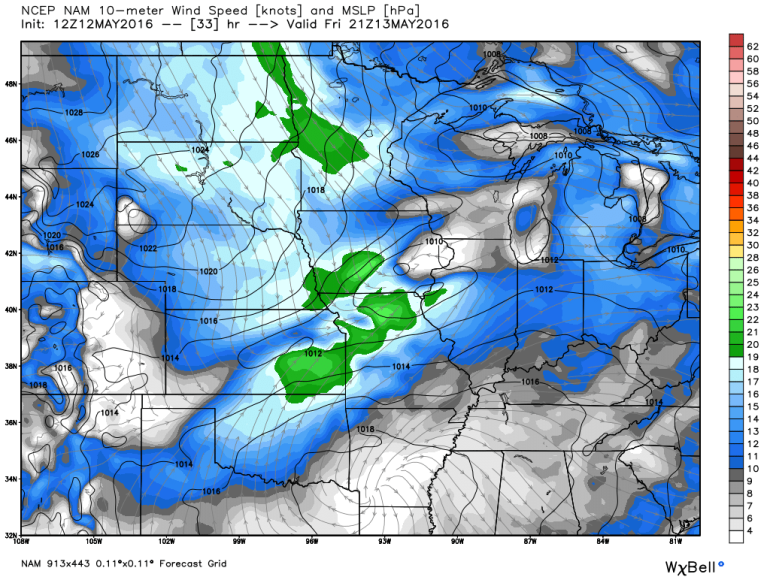 The reason why I'm showing you these maps is because remember the air to the south in AR and NE TX is more moist. That air is forecast to come back northwards.
Yesterday I mentioned that I still wasn't sure about how we can get a lot of gulf moisture to return to the area so quickly. We're asking an awful lot to go from low dew points in the AM to severe weather conducive dew points in the PM. I'm still not convinced.
The model data shows us having dew points in the mid 50s by 1PM Friday…I thinnk that's too high…then the model (NAM) shows dew points 60-65° from KC northwards ahead of the cold front. I still think that's too high.
The reason why this is important is that but potentially overestimating the dew points the model(s) may also be overestimating the amount of instability out there.
So IF the moisture is not as great…then potentially the storm coverage and strength may be more of issue that what the models may be thinking. IF the dew points tomorrow afternoon are around 55° or lower…I can't get too worked about about a lot of severe weather locally. IF the dew points are 60-65° then perhaps we'd have better chances of seeing some stronger storms between 4-8PM or so through the area.
I want to see where we are tomorrow at noon before getting to worked up about this stuff for tomorrow afternoon. Again I expect some sort of line of showers and storms to move through…I'm just questioning the intensity at this point for KC proper.
The SPC has placed us under a slight risk of severe storms…that seems reasonable to me right now…my initial thoughts are that perhaps the better risk of gusty winds with the storms (58 MPH+) may reside closer to the 36 highway corridor region into N MO. Let's see how the storms survive there trip into KC from there.
Don't be surprised though if parts of the viewing area re placed under a severe thunderstorm watch at some point tomorrow afternoon/early evening. Again wind and hail would be the main concerns IF the storms can get strong enough.
After that a cool weekend is on tap.
Early next week looks rather gray/chilly and wet…especially Monday. Rain is likely at this point early next week and with us having a persistent east flow of air + rain out there it may be a miserable Monday.
So here are the takeaways from today's blog…1) there is a storm risk from 4-8PM Friday (strength of storms locally TBD). 2) a cool weekend is likely while we fight with some periodic clouds. 3) more rain early next week…perhaps 1″+. 4) cool weather continues for most of next week.
I do think we'll see a warm-up again heading into next weekend.
That's it for today…I'll update the blog again Friday before lunch.
Joe