This is an archived article and the information in the article may be outdated. Please look at the time stamp on the story to see when it was last updated.
Another real pretty start to our day here in KC but clouds will become more numerous as the morning moves along and eventually at least some rain may move through the area sometime this evening At this point I'm really not expecting anything too bad locally. The risk of severe storms will be west of the region later today. Our chances for storms of more significance arrives on Thursday. Matthew also made landfall a few hours ago (the 1st of potentially a couple of landfalls) and is still a nasty storm that will create devastation into the Bahamas.
Forecast:
Today: Increasing clouds and mild with highs into the 70s. There may be some showers into far NW MO this afternoon. See the radar below for updates. Windy as well with gusts to 25-30 MPH. There could be some light showers even into the KC area today as well coming up from the SW…anything would be light and short it appears
Tonight: A brief round of showers and or weakening storms possible from 9PM-2AM. There may be a few brief downpours but the storms will be losing their "fuel" (atmospheric instability) as they progress eastwards towards the state line area. Lows in the 60s
Wednesday: Partly sunny and warmer with highs around 80°. Lighter winds.
Thursday: Occasional storms and rain. How unstable we get though will affect our severe weather risk on Thursday. Highs 75-80°. There is some upside to that with enough sunshine.
Discussion:
Matthew continues to be an impressive hurricane. The eye briefly come ashore in western Haiti early this morning (1st landfall) but it's already starting to come back over the warm ocean waters and will now be targeting the Bahamas where Hurricane Warnings are in effect.
Take a look at radar from the Guantanamo Bay military installation.
You can see the center or eye of the storm coming back off the western tip of Haiti near Les Cayes.
The satellite presentation this morning is still a healthy looking storm although as I type this the eye of the storm has filled back in with clouds.
At one point last night the Hurricane Hunters were detecting winds of over 190 MPH about 900 feet above the ground. It would be the height equivalent of going up to about the 90th floor of the Empire State Building!
Assistant Mayor in Les Cayes was holding a meeting about #Matthew and the storm's winds blew off the roof. #Guy Delva on @RTVCaraibes

— Jacqueline Charles (@Jacquiecharles) October 4, 2016
There are still issues with the future of Matthew and where it goes within the Bahama chain of Islands and then how close does it get to the eastern coast of FL. Data for the last 24 hours has been placing Matthew anywhere from hugging the FL coastline to staying far enough offshore so that the effects are somewhat "muted".
This potential would be towards later THU into FRI in terms of how it affects FL. and again if it goes farther east by 50 miles the effects would be much more different that IF it was hugging the coastline as it moved up the eastern part of FL. My guess is for the 1st time in many years…Hurricane Watches may go up in FL today or tonight (which for many areas of eastern Florida hasn't happened in almost 3000 days). Even IF it misses FL and passes to the east…the next target may be the SC/NC coast line.
Been 8 years (nearly 3,000 days) since parts of Florida have been under a Hurricane Watch. Days since various tropical alerts by NWS office: pic.twitter.com/7DGKGan3RE

— Kathryn Prociv (@KathrynProciv) October 4, 2016
Yes…it sounds unbelievable but almost 3000 days since a Hurricane Watch for a state that many think gets a lot of hurricanes. That stretch of days without a watch goes halfway up the SC coastline as well.
The last time that a major hurricane made United States landfall (Wilma-2005), Twitter did not exist. #Matthew pic.twitter.com/PlFSJdbpLz

— Philip Klotzbach (@philklotzbach) October 4, 2016
History though for a landfall during October in that part of the US though is NOT favorable for Matthew…which is a good thing.
0 hurricanes have made landfall along the east coast of Florida north of Miami in October on record (since 1851). #Matthew pic.twitter.com/ufuztvoMHd

— Philip Klotzbach (@philklotzbach) October 4, 2016
Again…100 miles off the coast…reduced wind effects (but still some pretty good gusts)…closer and there will be bigger issues.
Another factor depending on the path of path of Matthew is the wave heights that the storm will generate even IF it stays offshore off the Carolinas.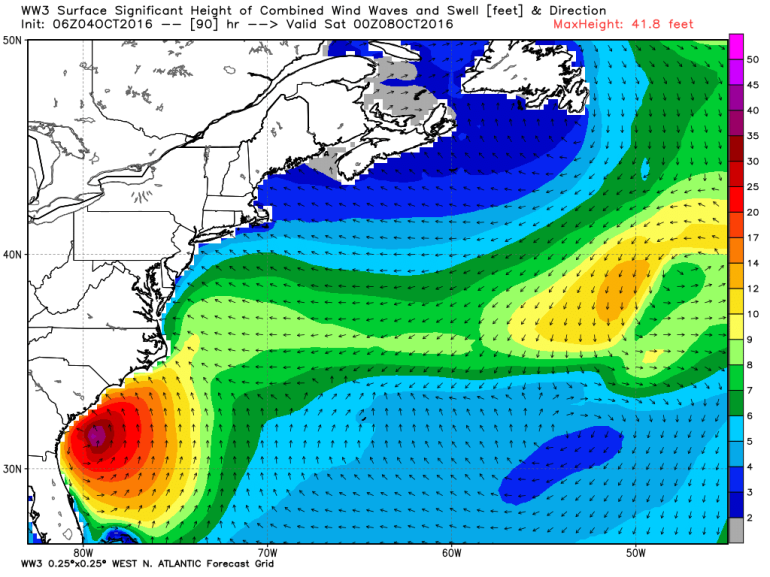 Finally…usually it's the water, whether it be from flooding from the Ocean (storm surge) or rain that is the big killer in the States. This storm certainly has all that potential as it comes near the coastline, especially up the east coast from SC northwards.
I have a feeling there are some curveballs coming from Matthew. IF you have family and/or friends in the Bahamas and eastern FL…make sure they're aware of all the potential with this storm (odds are they becoming more aware of it now).
Meanwhile our weather is changing. Today we actually have some wind…that hasn't happened around these parts in about 10 days or so. The winds are from the SSE. Right now there really isn't that much surface moisture to the SSE of here compared to what we have on top of the area already. Dew points are actually very similar through southern MO into AR. we really won't get overly "juicy" with dew points today (it will be thicker farther west and well SW of the KC area). Another reason why I don't have a lot of concerns about the severe weather risk overnight. There could be an isolated wind gust report since the winds above us will be from 50-60 MPH…so perhaps some wind can work down towards the ground in a thunderstorm but it should be widespread at this point.
Thursday does have some openings for severe weather but again it will really depend on the amount of instability present…whether we're fighting through clouds and rain through the day cooling the temperatures and reducing any instability build-up locally. There is the potential, as I outlined on Sunday during the weathercasts in the evening, of some severe storms even in the morning hours with the low level jet stoking any thunderstorm activity. The main risk would be hail and gusty winds from this AM stuff.
That's it for today…have a great Tuesday. Our feature photo comes from @nfcollier01
Joe