This is an archived article and the information in the article may be outdated. Please look at the time stamp on the story to see when it was last updated.
Good morning and thanks for taking a couple of minutes and reading through the FOX4 Weather Blog…as some more summer heat is trying a little harder to press closer to the KC area…but it may not get too bad this week from a temperature standpoint.
Forecast:
Today: Becoming mostly sunny and hot. Nothing unusual for early August though with highs around 90°. Winds will be from the S/SE but may switch towards the N/NE later today. Overall winds should be under 10 MPH though. Isolated storms are not out of the question for the KC area later today.
Tonight: Partly cloudy and seasonable with lows in the 60s
Tuesday: We'll do it all over again.
Discussion:
I saw this graphic the other day and I thought since we're having a tough time heating up to typical summer temperatures this season…I'd share it with you.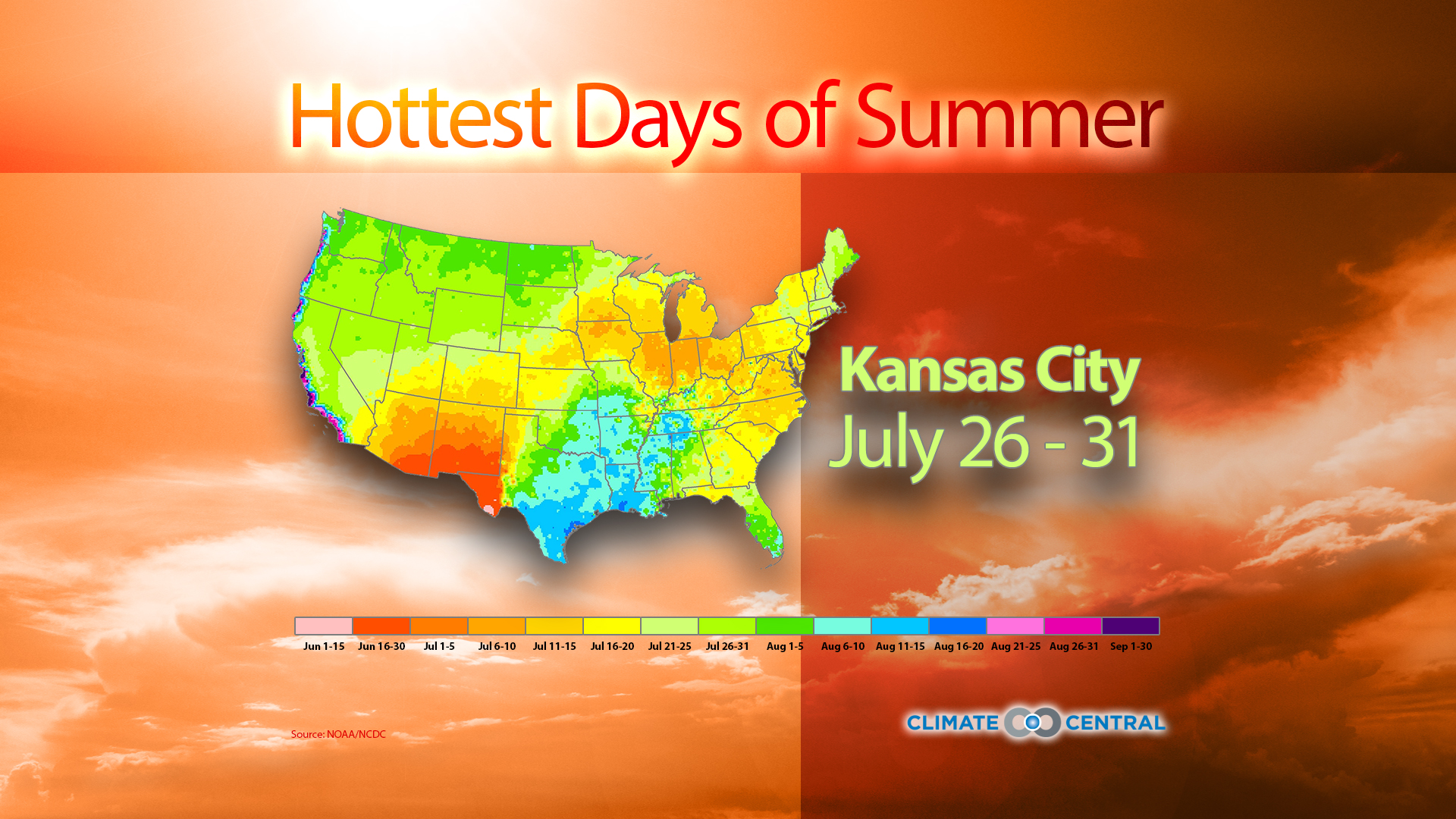 Well during that time-frame KC was about 5-10° below average each day and we ended up with our 4th coolest July. I've previously talked about the connection between rather cool July weather and what happens in August. August usually turns into a pretty cool month as well. Granted we're only 3 full days into August but we running almost 3° below average and while this week will not be overly cool…it's certainly not going to be a scorcher (overall) as we'll be on the edge of the heat.
What this means for us is that the more serious heat may be just towards the SW and W of the KC area with the region in a weak quasi NW flow. This should allow a series of disturbances to come down into the area and produce at least some scattered convection, We've seen that this morning again (a weaker version of yesterday and shunted more towards the east of KC) as radar will confirm for the next few hours.
Not much happening around the KC area but some beneficial rainfall off to the east of the city while there is more scattered stuff in E KS.
A stronger disturbance was generated overnight on Saturday leading to the well timed rain that we saw yesterday morning. It was our 1st decent rain in a few weeks and was needed.
I spent the weekend down at the Lakes and noticed that they too are needing some rain. While the cool weather was common in Joplin last month…they were also dry with deficits reaching some 2.5″ for rainfall. That continues a nasty trend for 2014. While we in KC are about 4″ below average this year…they are close to 15″ below average for 2014 and it really shows. Since June 1st they are running at about 5″ below average. Last year on this date they already had some 31″ of moisture…this year they are around 14″. Big difference and part of the moderate drought that extends from the Cass/Bates county line southwards towards I-44.
It's definitely "crispy" down there and they really need some rainfall.
They have a shot this week as do we in the KC area…although the best opportunity may come later WED into THU and a somewhat stronger disturbance comes down the pike in the NW flow. Some of our model date today indicates the potential for some hefty rains around these parts in that time frame with 1-2″ widespread possible should things pan out. I don't want to go there yet because these NW flow events are notoriously fickle and the placement of the heaviest rain axis is tough to do from several days away…but at least we in the category of showing potential which is what the models can do. Location as they say is everything and we'll wait another 48 hours or so before we get to involved with that.
I always tell folks what I'm doing so they know my thought process and with the rain I got yesterday…I'm not planning on running the sprinklers this week (depending on what happens on Thursday). So if you got enough for the grass to get through for the next few days…then I would hold off and see what happens later this week.
By the way after that disturbance comes through we should see a nice drop in the highs later in the week with readings again below average into next weekend. Ahead of that disturbance we should heat up and potential could see temperatures as being near average (shocking). It's been since 7/26 that we've had an above average day for temperatures in the KC area.
Meanwhile…quick update on Bertha in the Atlantic…east of the Bahamas. Should not have direct impact on the US coastline…winds now are around 70 MPH and it may become a hurricane sometime today.
There is another storm though that may affect the US and that would be Iselle which is well east of HI now but heading towards them.
While Bertha may become a minimal hurricane…Iselle has her act together as you can tell with the prominent eye feature. It's packing winds of 125 MPH and while it will weaken as it approaches HI…it may still effect the Islands as the forecast track shows later in the week.
HI can use the rain in most cases although with the terrain there flooding is always an issue with the amount of rain possible. Some parts of the Island chain are dry and some are even in a drought (Molokai).
That's it for today…I'm filling in for MT for the next 2 weeks so most of the blog updates will be in the morning hours with possible later PM updates as the weather warrants.
Have a great Monday and I'll see you tonight.
Joe