This is an archived article and the information in the article may be outdated. Please look at the time stamp on the story to see when it was last updated.
Good afternoon…temperatures are warming up nicely now that the sunshine is starting to help the cause…and the winds, which have been a persistent thing over the last week or so continue to be an issue. The constantly changing wind directions are playing a big role in the temperatures…and with more of a predominant southerly flow expected over the next 5-7 days…warmer and more humid conditions are expected in the region.
Forecast:
Tonight: Variable clouds with a few scattered showers possible and not as cold…lows in the 30s.
Thursday: There will be clouds around and some chilly weather as well…highs around 50°
Friday: South winds return to the area and temperatures will warm up again with highs near or even above 60°
Discussion:
Last week I posted a twitter poll
Wondering what happens next in #KansasCity…what do you think?

— Fox 4 Weather KC (@fox4wx) February 23, 2016
Well unless something drastically changes…odds heavily favor the 80°+ day or the severe weather opportunities because the weather maps today scream spring to me in the Plains and that means thunderstorm chances will be increasing and with those chances come the increasing risk of severe weather in the Plains.
Whether or not the severe weather is an issue locally or not remains to be seen but as we head towards next week, at least for a few days, we'll have to start thinking more springtime thoughts.
The temperatures are going to be trending upwards and stay there for quite some time. Odds heavily favor above average temperatures (mostly) through at least the middle of the month. Take a look at the GFS ensemble forecast of anomalies…notice that each day through the 18th is expected to be above average..
Rainfall…it should start becoming more of a factor in the forecasts. We've had either a trace or no rain/snow (precipitation) since 2/2. 30 days including today so far…we'll see IF that changes overnight tonight…here is a look at the longest stretches below .01″ of moisture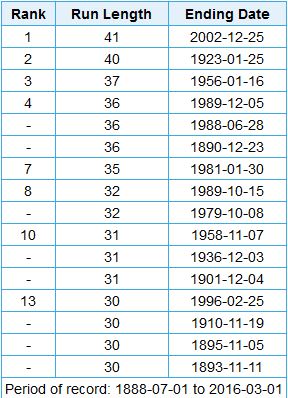 If we go past Friday…we'll jump into 8th position…
4. More humid air coming our way. As we head into the weekend, especially later Sunday you will be noticing higher dew points moving this way. These dew points will be transported northwards thanks to a persistent and increasingly strong south wind. The moisture is sitting down towards the Gulf coast. Look at the 2PM surface map down there showing the dew points in green.
Notice the 60° dew points along the coastal area…on Sunday those will be drawn northwards. Dew points here should at least get into the 50s Monday and Tuesday.
By Tuesday there should be some sort of upper level low in the SW part of the country. This is something rather unique this winter…yes that means areas in the SW may get some much needed moisture.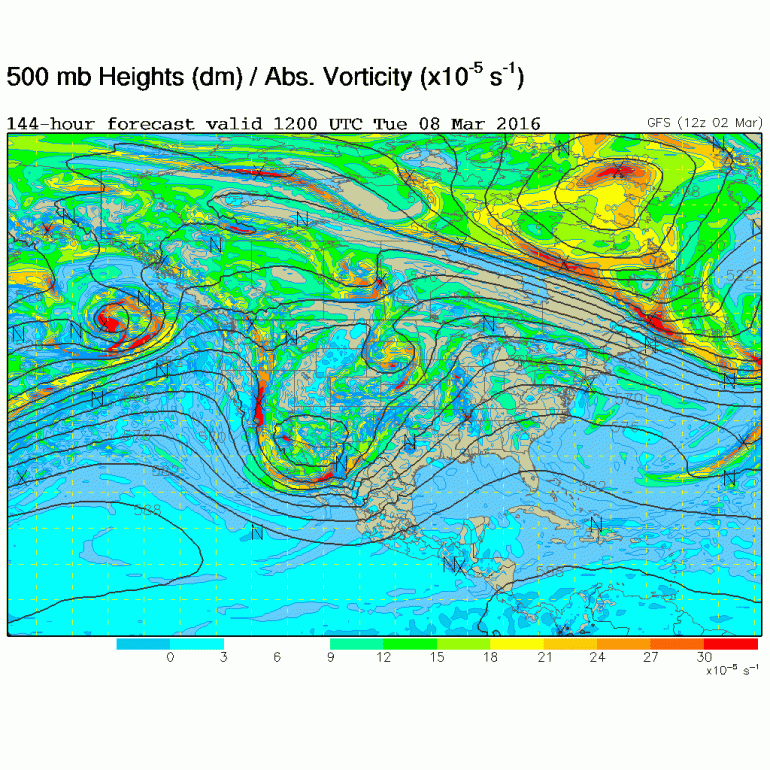 That storm will be spitting out little pieces of "energy" or weak vorticity" maxes that will interact with the moisture in place, and should set off various waves of fast moving showers and occasional storms. How much of that we get into remains to be seen…will the focus be along the I-35 corridor…or perhaps the I-44 corridor…we'll see how that looks over the weekend…but copious rainfall is possible…would I be shocked if we can pick up 1-3″ or so of rainfall through the 15th…not at all. Could that be farther SE pf KC…absolutely. The moisture in the atmosphere will be here…all we need are the various triggers to set it off.
5. The west coast is going to get slammed…a ton of rain and HEAVY mountain snow is likely next week.
A lot of that will be moisture brought in off the Pacific and sent up the terrain of the mountains…the snow levels out there may creep up but some areas may end up with 100-200(!)" inches of snow!
March can be an interesting month around these parts…snowstorms and severe weather go hand in hand in the Plains and southern Plains. It's going to be tough to get any snow with the cold air dislocated so far northwards…so I guess it's time to focus on thunderstorms
Have a great day and another update will come out tomorrow afternoon!
Joe