This is an archived article and the information in the article may be outdated. Please look at the time stamp on the story to see when it was last updated.
Good afternoon, temperatures are soaring this afternoon…already approaching 90° with heat index values over 100°. A heat advisory is in effect for KC…and an upgraded "excessive" heat warning is in effect for tomorrow with even hotter weather and higher heat indices expected to start the week.
Forecast:
Tonight: Clear and warm with lows in the 75-80° range.
Tomorrow: Hot and humid with highs between 95-100°. Heat index values may approach 115° in isolated spots but widespread 105-112° values are expected. There will be a weak wind shift line approaching in the late afternoon hours into the evening. It's not out of the question that a random storm may form with that. Rain chance at this point for any one spot is 20%. There are various parameters though not favoring much convection with this.
Tuesday: Hot and perhaps a bit less humid. Temperatures right back into the mid 90s. The dewpoints may trail off into the 65-70° range…we'll see.
Discussion:
First an administrative note…this will probably be the last blog for awhile. I'll be on vacation starting tomorrow through the 23rd or so. While I may cobble something together once or twice (if there is something really noteworthy to write about) odds are this will be the last one for a period of time. It'll be good to "somewhat" step away from things for a bit which I rarely do. With that said, yes you will still have access to me via twitter @fox4wx. So feel free to tweet me your questions/comments/concerns and I'll get back to you as soon as possible.
Now onto the weather as the heat is building through the region. Seasonable heat at that. Notice that the summer (since 6/1) isn't exactly blazing, despite the last couple of days. Click on the graphic below to make it more readable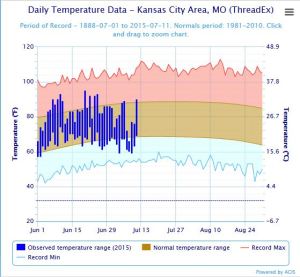 Including today we're had 9 days this year with highs @ KCI at least 90° or above. In the big picture this is not too bad although it is more than what happened last June and July (9) overall…and June>September we had 21 days with highs 90° or above. since 1990 we average about 36 days…we may not get there, but by the same token I favor the odds of seeing more than last years 21. This week alone we may tack on another 5+ days to the totals.
Rain chances tomorrow are interesting. The data today, like yesterday shows a weak wind shift line draped near KC in the evening hours…here is a look at the hi res NAM showing the "trof" nearby. This map is valid at 4PM Monday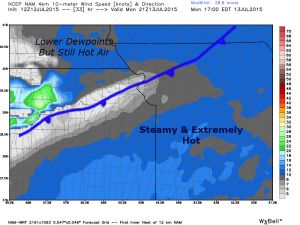 As you might imagine the instability will be impressive…however there are certain things that I'm leery of in terms of forecasting storms. 1) some model data are overdoing the dewpoints creating more instability that will be realized. 2) the "convergence" along the line won't be that good. SSW to SW winds ahead and W/NW winds behind the trof isn't too exciting to me…3) the mid level temperatures will be warm as well. Forecast soundings do show a cap just barely hanging on later in the day into the evening but it's sooo close to being overcome. So convection can't totally be ruled out later tomorrow but right now it may be more isolated. Obviously with any storm tomorrow there will be the risk of some downdraft strong winds should anything form in this environment. Something to be aware of in case…and one of those deals where IF you start seeing tall, vertically developing clouds…be aware that that would be a sign the cap is subject to breaking…and storms will be increasing likely for parts of the region.
Here is the severe weather forecast from the SPC…for Monday. Notice that we're considered "marginal" …also notice that areas east towards the OH Valley are really under the gun tomorrow. There is concern on my part about the MLB All-Star festivities over the next few days…how all this will time out remains to be seen…but the weather could be more interesting than normal in Cincinnati.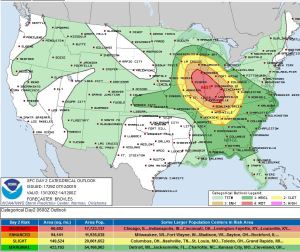 Regardless hot weather is expected for the next several days…and unless we have some cloud cover/outflow from storms in the region this week we may be in the 90s all week long.
OK that's it for now…have a great week+ and I'll see you again around the 24th or so.
Joe