This is an archived article and the information in the article may be outdated. Please look at the time stamp on the story to see when it was last updated.
On this date in 44 B.C. Julius Caesar was assassinated. It marked the turning point in Roman civilization and previously on the Roman calendar was referred to as the ides of March. Since his assassination is remembered for this date…people always said beware the "ides of March"…I guess for the negative…some think as well since it's a "turning point". For us, perhaps that's why…hopefully a day that marks a "turning" point towards Springtime…even though spring is still about a week away. Speaking of Spring…here is a nifty little countdown for you…because while today is a perfect spring day…tomorrow will not be!
[protected-iframe id="8fdf7f3f0d11a39a1a1c28034dfb928b-28016812-27967000″ info="8fdf7f3f0d11a39a1a1c28034dfb928b" ]
Let's start with the perfection…this may go down as a Top 10 weather day so far…it's perfect outside with temperatures as of this writing around 70° and not a lot of wind. The 1PM surface map shows cold air to our N and NW. Moisture in the form of surface dewpoints in the 50s to lower 60s is to the south of the area and moving northwards.
As the moisture moves north this afternoon into this evening…some scattered showers may develop. Temperatures will stay nice and mild through the middle of the evening.
At 10 PM according to the HRRR model, which is one of our short-term models that is run out to 15 hours every hour…this is the way temperatures should shape up…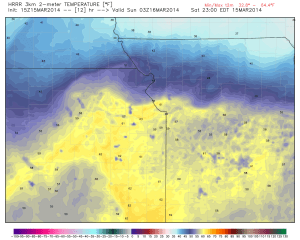 Click on the image above to make it more readable…basically Clinton through KCI is around 60°…Maryville/St Joseph is close to 40-45°. That cold air will press through the region before 12AM…so expect falling temperatures later this evening…probably about 10-20° in about 1-2 hours time.
There may be some scattered showers between 7PM-10PM tonight. Here is a look at the HRRR model again showing what it thinks radar will look at. This product typically is not a perfect forecast though…but I wanted to give you an idea of the potential.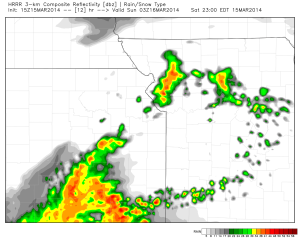 The surface low which is now near Lincoln, NE will drop SSEwards this evening and sort of redevelop in the southern part of the country. Take a look at the RUC data (another short-range model that goes out to 18 hours).
The colder air will be moving in around 10PM tonight (valid time of the map above and confirming the HRRR map I posted as well). Up towards IA an area of snow will begin to develop and start dropping south as well.
This is actually going to be one of the stronger and wetter storms that we've seen over the last few months in the region…NOT for KC…but for areas farther south towards the I-40 corridor and the I-44 corridor as well. The next map shows how much moisture the NAM model expects over the next 2 1/2 days through later Monday.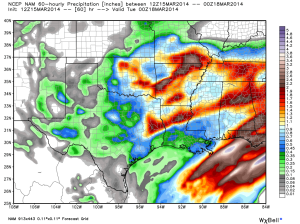 that's some good rain for AR and parts of OK…where there is some rain falling right now.
OK back to our weather…as the cold air presses south…we need to start looking at the mid-upper levels of the atmosphere where a couple of storms are being tracked. The first piece is in the Rockies now…and the second piece is in W TX. You can see those pieces on the water vapor loop…
Those pieces will not really merge but sort of start spinning around each other well to our south…so with this idea…KC is not in the greatest area to get a lot of moisture out of this. With that said there still should be enough lift with the moisture from the south moving north and the cold air pressing south to help us generate some sort of wintry mix early tomorrow AM. The atmosphere should be conductive at first for some ice pellets after 12AM…through about 3AM then the potential for some snow will exist after that through lunch tomorrow. Temperatures should be near to above freezing overnight preventing too many, if any, problems from developing on the roads. We'll, as usual need to watch bridges and overpasses near daybreak just in case.
There may be a window for tomorrow AM where we do have some decent flakes falling out there but with temperatures near 32 or higher…and with it being daylight…tough to see how we get much accumulation from this at this point. I can't rule out something on some grass in places though.
The other big ticket, aside from the colder weather will be the winds…which as the colder air moves in and our surface storm to the south develops…should really pick up to 30-40 MPH with maybe a higher gust or two. Some model data indicates that we may have 50-60 MPH winds a few thousand feet off the surface tomorrow AM…so there is potential for some decent+ wind gusts tomorrow AM.
Monday looks fine for the parade…just on the cool side with parade temperatures in the 40s…not a lot of wind though.
Another strong storm will develop on Tuesday and move towards the north of the area…moisture for us will be tough to come by…since it's following on the heels of this storm…but there could be an accumulating snow in E NE and IA…so it will need to be watched.
Enjoy the warm days…it does appear there are more cool days coming and potentially some colder days as well…so gardeners will have a tough go of it for the next few weeks…winter is still going to be around through the end of the month I think along with even the occasional chance of more snow.
Joe