This is an archived article and the information in the article may be outdated. Please look at the time stamp on the story to see when it was last updated.
I thought we'd start today's blog by going to the other side of the world and talking about the strongest storm of the year, and potentially one of the strongest storms in recorded history per satellite estimates. The storm that I'm referring to is Typhoon Haiyan/Yolanda. It's as near a perfect storm as you will ever see. Winds are estimated at 195 MPH (sustained) and there may be gusts to almost 250 MPH. We'll never know for sure because they stopped flying recon missions into storms like this back in the late 1980s.  Take a look at this monster from space.
The storm is going to devastate many areas of the Philippines over the next 24 hours and factoring in the storm surge which is being estimated at over 30 FEET, hundreds if not thousands will lose their lives. On average this part of the world experiences 20 storms per year. Typically they are not as strong as what's about to happen there. A couple of years ago Typhoon Washi hit killing 1200, displaced 300,000 and destroyed 10,000 homes.. This storm is much stronger. Thankfully(?) this storm will pass well south of Manilla which is where a lot of the population is centered.
Like I mentioned, we'll never know for sure how this will compare to the strongest storm on record which I think is Typhoon Tip in 1979.  The pressure of that storm dropped to 870 mbs (recorded by a recon mission) or 25.69″.  The thing is Tip maxed out in strength over the water. This storm is peaking just as it comes ashore…or close to it! To put this in perspective that us Midwesteners can relate to a little more…think about an EF4 (winds 161-199 MPH) tornado that is 50-100 miles across!
Take a look at some ultra close-up pictures from yesterday. Look right into the eye of this monster and you can see some of the meso-vorticies spinning around inside the eye of the storm. (courtesy University of Wisconsin)
Photographer Jim Edds is a chaser of violent storms like this across the world. You can follow him on Twitter @ExtremeStorms  also  @typhoonfury
One of his most recent tweets was very concerning.
I keep telling everyone here how powerful the typhoon is but they don't seem to comprehend what's coming.

— Jim Edds (@ExtremeStorms) November 7, 2013
One of our photographers here @ FOX 4 has family directly in the path of the storm. He posted some images on his blog showing some of the construction that will be devastated over the next 24 hours. Looking at some of the pictures really makes you wonder how these weakly put together structures will bear the force of 150-200 MPH winds…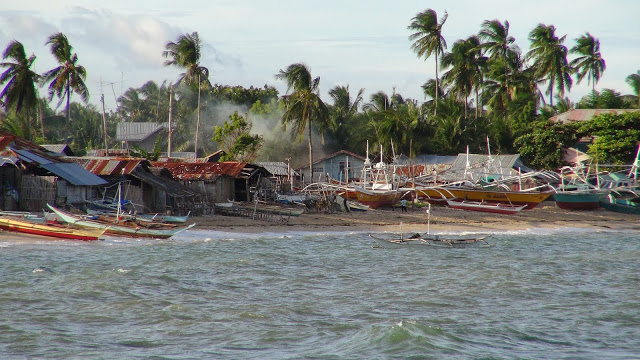 This won't be good. The storm has made landfall at Guiuan, Eastern Samar at 4:40am local time.
Here is a look at local radar from there. This is animated and may take a bit of time to load up…be patient.
OK let's now focus on our weather here in the KC area. Things are going to be rather tranquil around these parts, aside from more wind later tonight and tomorrow. No real important changes in the weather are expected till later Monday. By then a "Blue Norther'" as they like to say in Texas will be whipping through the Plains. There are still some issues and questions about how much cold air will get down here but the models today are VERY bullish with a plunge of cold air Monday night through later next week.
I went through the records, and there is actually some history for this to happen. Back in 2000 we had about a 7 day stretch of unseasonable cold weather (11/7-14) with 5 days in the 30s for highs. In 1991 from 11/1-11/8 it was nasty cold as well…including a high of 22° on 11/2 & 3 and 23° on 11/7! Our 5000 ft temperatures with that were close to -20°C…for this particular outbreak the coldest temperatures at that level should be around -6 to -8°. Bone-chilling yes…impressive yes…historic…no.
Take a look at the forecasted temperatures off the EURO model for the next 10 days…you can see how we'll be mild through Monday…then colder after that!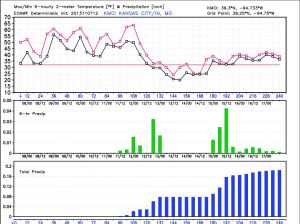 Now the next question is can it snow? It's actually NOT out of the question that we can get at least get some flurries Tuesday AM as the cold surface air interacts with some mid-level moisture swinging through.