This is an archived article and the information in the article may be outdated. Please look at the time stamp on the story to see when it was last updated.
Good afternoon…nice to be blogging again after talking a few days off to sort of refresh my typing fingers. There was a lot of frustrated blogging going on there for about 10 days of could this happen…will this happen but if this happens then that could happen type stuff. Spread out over the winter…fine…but man…I was over it…and I'm sure some of you were too.
Unfortunately for snow lovers…the news is not good…there is a system to watch for early next week that may create ice issues however. I don't want to get too into that at this point…but it's worth monitoring.
---
---
Forecast:
Tonight: A cold front will be drifting through the region later today. Temperatures will be dropping as the front moves through and we'll be rather chilly in the morning with lows tanking to near 20°. I can't rule out some late night light mixed precipitation or even some early morning snow flakes…although it would be fleeting.
Friday: Colder with a mix of clouds and sunshine. Highs in the mid 30s
Saturday: Nice warm-up with highs closer to 50°
Sunday: Even warmer with highs 60 to 65° but windy too with gusts to 30 MPH possible
---
---
Discussion:
The main story today is the cold front that is draped in the region this afternoon. As of 11AM it was between KCI and St. joe and was slowly drifting southwards. There is a rather large change in temperatures today in the viewing area and this will be magnified over the next 6 hours during the afternoon, from Clinton to Maryville.
The 11AM surface map shows the temperatures and the frontal location…
To the north of the front there is a pretty good drop into the 40s and 30s. The 30s will be moving into our area tonight and we'll continue to drop into the morning Friday before recovering back to the 30s in the afternoon on Friday.
By later this afternoon though…for areas south of the Metro…70s may indeed be prevalent…while far northern MO, in the colder air, will be in the 40s…so a pretty impressive change in temperatures.
With this change, you'd expect thunderstorms or rain…or something and while there may be some showers later today well south of KC…maybe even a rumble of thunder towards the Lakes area…the rain aspect of this won't be too significant.
Then we basically go into the colder air on Friday but it will be a brief intrusion.
With that said…might be a good time to put some things in perspective for you…as of yesterday (through the 14th) we're running 5.5° below average for the month so far. I've written in the past few weeks…that as February goes…so goes the winter in the end. Today's warmth should easily chop another degree or so off that…and while Friday will be colder…it won't really impact the average monthly temperature…then we warm up into Monday before another chilly shot comes beyond that. We'll see where we end up for the month…but the next two weeks look more back and forth…than anything constant.
I do want to touch on Tuesday. Not getting too involved but worthy of putting on you're radar screen (if you will).
A cold front will be coming through the region…sometime Monday it appears. Ahead of that front…another significant warm-up is expected…maybe the 60s again before we head back downhill. The timing on that may change a bit…but you get the idea…almost sort of like today in a sense.
There will be a difference however…the colder air will come in in the lower part of the atmosphere and lag above that. That means on Tuesday we may have a cold air mass at the surface but yet as you go up in the atmosphere it will be getting warmer. The EURO for the last several runs has been persistent in this thinking…that also means that whatever wave could come through the area…and whatever precip may be generated…could take on a wintry form.
It's a recipe…not really for snow…but for either sleet or freezing rain. Again there are a ton of variables involved here…and it's just at this point worth filing in the back of your mind right now. A lot will depend on how "shallow" the colder air is when it comes into the region later Monday…again worth paying attention too for Tuesday. This afternoon's update is still bullish for some sort of combo between sleet and/or freezing rain. 
That's it for today…tomorrow's blog will delve more into the drought situation. The new report came out this morning and didn't change from last week for our area…maps will be posted on Friday's blog.
Our feature photo comes from Shawn Foster…who is a regular tweeter for @fox4wx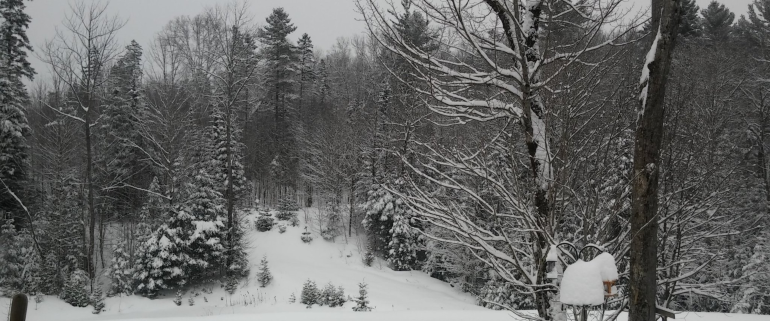 Not taken here…but up in Vermont. I've never been there myself…but hear it's pretty country in the fall and winter especially!
See you tomorrow!
Joe