This is an archived article and the information in the article may be outdated. Please look at the time stamp on the story to see when it was last updated.
We'll call these last few days January "thaw" #1 I guess…Monday and some to be today were/are going to be mild…yesterday was OK…and tomorrow we'll briefly be OK before we're not "OK" anymore. Once we're not "OK" …we won't be "OK" for about another week or so…and while there are no big storms showing up…there are several nuisance-y type things that I'll be paying attention to for the the next week.
---
---
Forecast:
Today: Variable clouds, becoming windy and overall mild. Highs around 55° . Winds may gust to 20-30 MPH or so. IF we can manage some more sunshine…we could be milder and hence windier in the afternoon.
Tonight: Mild with rain showers possible overnight. Lows will remain in the 40s. We'll probably have a 12AM high around 50°
Thursday: A lot happening. We may be around 45° at 6AM or so…but be closer to 25° by 9AM and will drop to around 20-25° by mid-day and then sort of waffle around that vicinity all afternoon. The rain that's out there in the daybreak hours may change briefly to some sort of wintry mix including some freezing rain/sleet then some flakes of snow. Right now I'm not expecting much of a snow accumulation locally. However areas towards NE KS and NW MO may end up with 2″+. The issue for KC would be the potential for any "flash" freezing on the roads. This is still in play and will be monitored. More on this in the discussion. The total amount of moisture we get overall looks to be under 1/3″ and perhaps even under 1/10″ for areas towards the SE of KC. the vast majority of that moisture will be rain.
Friday:  Mostly sunny and cold once again with highs around 25° or so
---
---
Discussion:
Yesterday one of our blog commenters (Richard) was asking me to check into the lack of snow through where we are now and what the winter ended up with overall…
So let's crank those numbers out…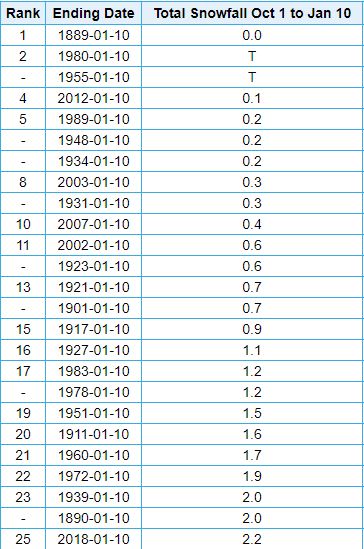 We are in 25th place…really 23rd though because I'm tossing the #1 year 1889 and the #24 year…1890 because of missing data and with all the ties happening…well you get the point. Overall though there have been 22 other years with less snow through 1/10. There are a bunch of ties though in that list above.
So what happened in those other years…let's go from top to bottom…
#1 1980: 23.5″
#2: 1955: 20.2″
#3: 2012: 3.9″
#4: 1989: 6.9″
#4: 1948: 14.2″
#4: 1934: 7.2″
#5: 2003: 9.4″
#5: 1931: 14.6″
#6: 2007: 10.2″
#7: 2002: 8.6″
#7: 1923: 4.5″
#8: 1921: 7.3″
#8: 1901: 30″
#9: 1917: 9.7″
#10: 1927: 12.9″
#11: 1983: 23.4″
#11: 1978: 29.2″
#12: 1951: 8″
#13: 1911: 14.1″
#14: 1960: 58.5″(!)
#15: 1972: 10.4″
#16: 1939: 14.3″
#17: 2018: 2.2″ so far. In the end…UNKNOWN right now ;)
In that list of 23…6 have finished above the current average of around 19″…So statistically there's about a 1 in 4 chance of that happening. 9 have finished with less than 10″ of snow…and about 7 are in between. Overall though the odds of getting more snow than average…when you've struggled this long to get snow in the 1st place…not so good as you can tell above. Then there is 1960 snow lovers…
[protected-iframe id="6dcc87b1c4e5b83ad83af5062ab0e139-28016812-27967000″ info="https://giphy.com/embed/ToMjGpKniGqRNLGBrhu" width="480″ height="256″ frameborder="0″ class="giphy-embed" allowfullscreen=""]
Odds are Thursday won't be a big snowmaker for us locally.
It will still be a fascinating day though…watching and feeling the temperatures change by the hour around daybreak or so. Check out where we should be around 6AM…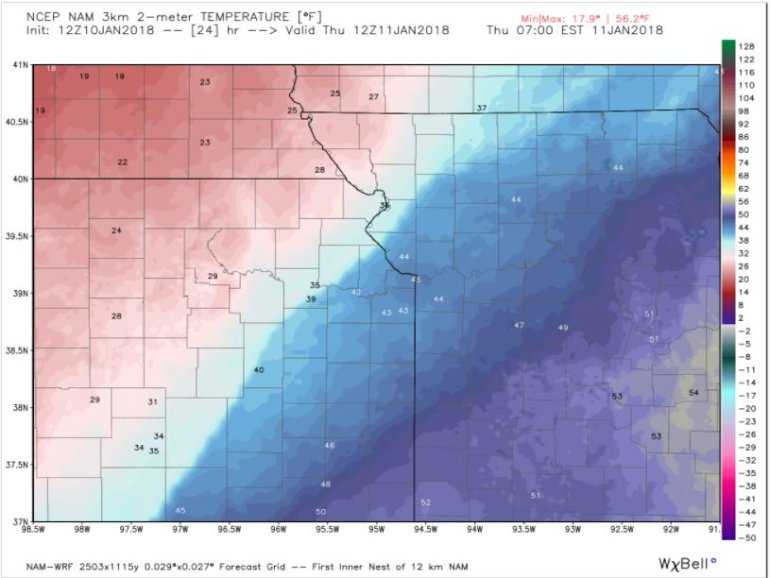 Now 9AM…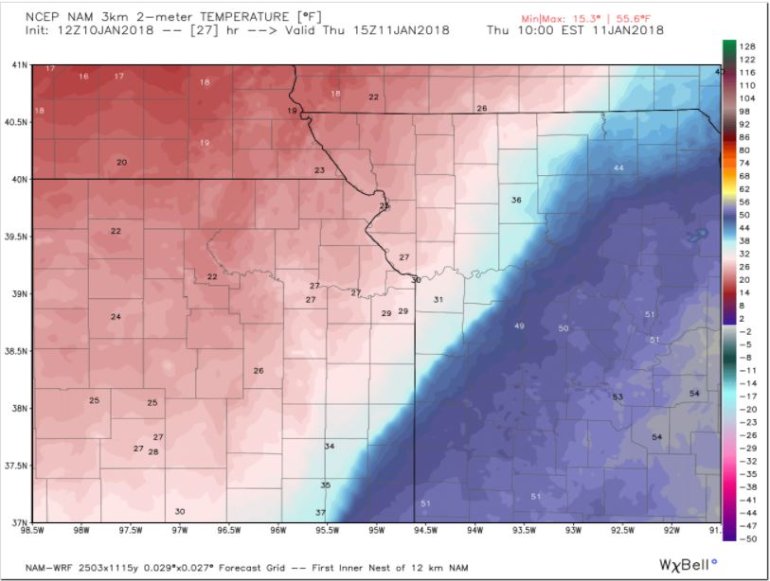 Finally noon…and then we sort of stabilize for the rest of the afternoon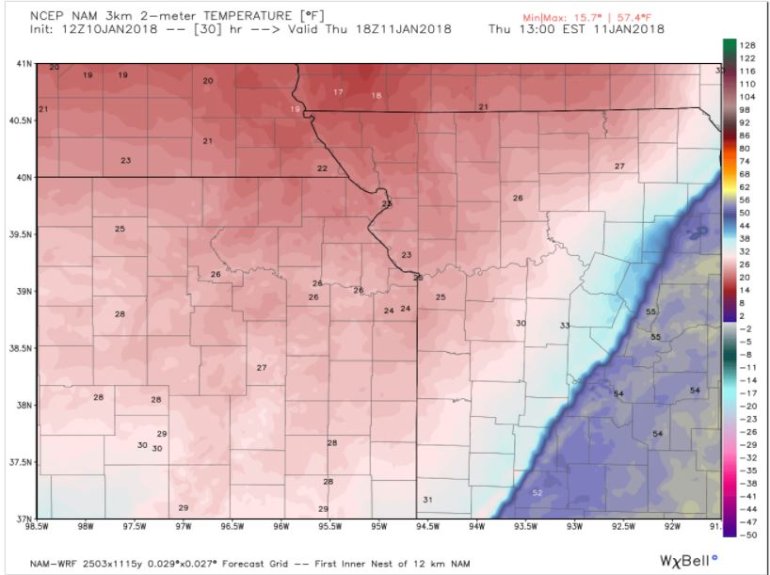 Add in 25-35 MPH wind gusts…and wowza…it's going too be a cold feeling morning too with wind chills down in the near 0-10° range by lunch, if not earlier.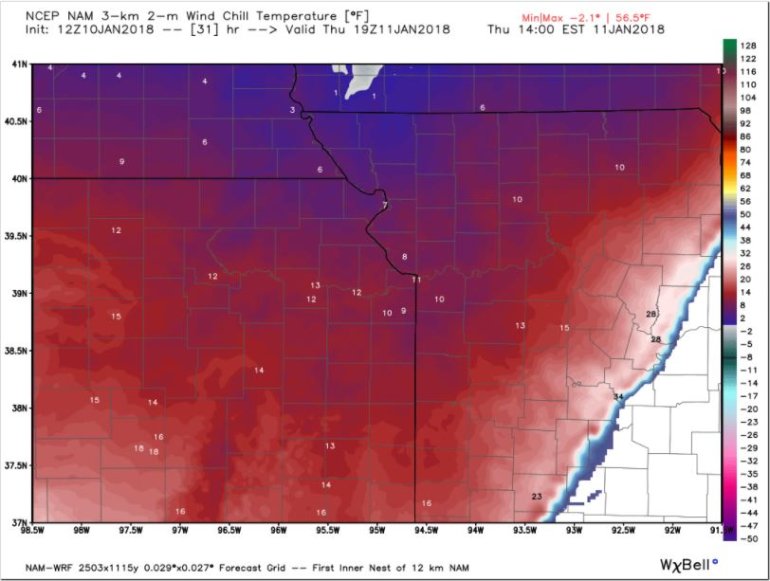 So that will get your attention.
As far as precip goes…
South winds today will continue to bring in higher dew points…surface moisture. The morning surface map shows the temperatures in RED and the dew points in GREEN.
The numbers in green show lots of 40s dew points coming into the area. So as the front moves though in the daybreak hours it will be "lifting" those dew points…and that should create some rain. IF the dew points were even higher and/or the front was coming in 8 hours later or so…I'd be wondering about thunderstorms.
So with that said…let's say we get ourselves some rain…then the front and the fast drop of temperatures…some 20° hits. What's falling will start to convert over to something wintry…and what's on the ground may try to freeze. Hence the concern about wet roads turning to icy roads in spots as the morning moves along. There are a lot of variables though for this to happen…but it's on the table for sure and pre-treatments won't work because of the anticipated rain that comes first…it would wash everything away…so as a result the road crews won't be able to get ahead of this as efficiently as possible.
Be alert for changing road conditions in the morning…I think the afternoon should be better for the late afternoon rush hour.
I'm going to enclose the latest advisories from the NWS below..Winter Weather advisories will probably spread through at least part of the viewing area later today.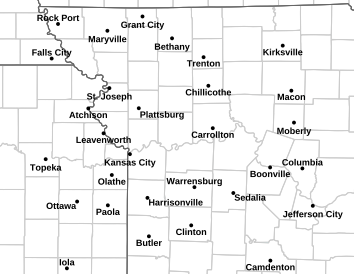 They will appear in blue when they're issued.
and here is radar as well.
and a more regional look at the latest warnings etc…that will auto update as the day moves along (courtesy Pivotal Weather)
Cold weather then is the rule into the next week it appears.
Of note is additional frigid air masses coming on Saturday (maybe some flurries with that). The air mass coming on the Saturday will be blowing air to us that has snow to the north of KC…this means more refrigeration to that air mass and less modification…so it's going to be cold for sure. Maybe around 20° Saturday…a bit better Sunday…after a bitterly cold start.
Then another mother lode of arctic air comes in Monday into Tuesday.  This has earmarks of being the same type of air mass that settled into the area on New Years Eve and Day…nasty cold.
As a matter of fact…using history to show what could happen Tuesday morning…look at the temperatures jsut above the surface (a few thousand feet up) for this past New Years Day…those temperatures in RED are in °C…so -22° C = about -8° F
Now look at the forecast off the EURO for Tuesday AM (the 16th)…again a few thousand feet off the ground…not as brutal but still…-18°C
The start of the New Year was -11° in KC…there was snow on the ground just north of KC into N MO.
Based just on the map above…I think sub-zero temps are certainly on the table for Tuesday morning assuming clear skies and little to no winds.
It should also be noted that the EURO at least does have some quick hitting snows over the weekend…there is some mid level moisture that will be moving across…how saturated it will be below that though is a question so that's something we'll deal with more on Friday and Saturday.
Overall though the next 7-10 days look cold! Heck of a way to ruin a January thaw…maybe we can recover later next week or next weekend.
So since we're going to need warm weather thoughts…our feature photo comes from @bigcomedown (Forever Royal) via twitter.
Joe