This is an archived article and the information in the article may be outdated. Please look at the time stamp on the story to see when it was last updated.
Good afternoon…2000′ or so…that's it..that's the difference between a 6-10″ wet heavy snowstorm and rain…and that 2000′ is from the ground up. Above that it probably will be snowing…but many, maybe not all tomorrow, but most of those flakes will melt as the come down towards the ground through that warm layer.
Forecast:
Tonight: Lower and thicker clouds developing with mostly dry weather expected through 2AM then rain moving into the area before daybreak. There may be some wet snowflakes at the onset tomorrow morning but no accums are expected. Temperatures should drop to 32-35°.
Tomorrow: An occasional snowflake but mostly a rainy cold dreary day with highs 35-40°. The is the potential for a snow/rain mix in the AM hours but odds favor minor, if any accums in KC during this time period. For folks in far N MO and NE MO…a better chance of snow tomorrow AM…especially N MO towards the IA border. More on that in the discussion.
Tomorrow night: Occasional rain with steady temperatures. Readings 33-35°
Sunday: There is a brief window where we could see a switchover to some snow. Temperatures during that process will be dropping to 32° or so and odds don't favor any accumulation on the streets etc. If we maximize the snow potential…we're looking at only 2-4 hours of it. There is the potential of some accums on the grassy and exposed surfaces.
Monday: Pretty darn cold with lows in the single digits and highs 25-30°.
Discussion:
I think I mentioned the other day on twitter to somebody (@fox4wx) that I was sticking one nail in the winter coffin. I think today I'm sticking another one in coffin. I have about 3 nails to go.
Needless to say, for KC proper this is mostly rain…accumulations look minor at best right now. Much like the Royals were 90 feet away from tying the World Series…and how agonizing that was for all of us…for snow lovers we're a measly 2000 feet away from a big snowstorm.
I was trying to equate that to something a bit more down to earth…and I decided to go to the sport of NASCAR for an assist. Envision if you will the KS Speedway.
.@kansasspeedway helps me explain what's keeping us from a BIG #snow in #KC this weekend. The distance from turn 4>1 pic.twitter.com/YYh9SJ8yS8

— Fox 4 Weather KC (@fox4wx) January 30, 2015
The distance between turn 4 and turn 1 is roughly 2000 feet…that's how high the warm layer is from the ground upwards keeping the snow that will be falling through the clouds…from reaching the ground.
The NWS from Topeka put this together…
It's science Friday! Today we answer: How can only 1-2 degrees have such a huge impact on a #snow forecast? #kswx pic.twitter.com/eElnNAH9Rr

— NWS Topeka (@NWSTopeka) January 30, 2015
It really is amazing…and in a winter were we're struggling for snow (<5″ thus far) this is another slap in the face for snow lovers and enthusiasts. It's not lost on me that NE MO and areas east towards Indianapolis/Columbus, OH/NYC eastwards will get slammed again from Sunday into Monday…the tides of a lack of snow have turned for some of the US but essentially from the Plains westward through the western part of the country…it's just not in the cards for quite some time.
The atmosphere should be sufficiently cold throughout to help the snow reach the ground in KC sometime after daybreak tomorrow. That is about 6 hrs+ different that yesterday and with the bulk of the precip in departure mode as that process occurs…it continues to be tough to imagine things working out for a decent snow here.
It's clear that the southwestern storm is expansive and the water vapor loop confirms this…
There is some nice rainfall in the desert SW today…
It's not worth showing on radar because the mountains mess things up with the radar beam…but this comes from the NWS in Phoenix.
So that storm will thrust moisture our way but the core of the storm will drop into Mexico. Another wave in British Columbia will dig into the Plains over the weekend. IF it were to dig in harder and somewhat farther west…SUN AM may turn whiter. Indications at this point though are that will NOT happen. In the weirdest of ways…that digging wave will help create low pressure right on top of us that will strengthen and deepen along and south of the I-70 corridor Sunday and then move eastwards through the OH Valley..creating heavy snow on it's northern side in the colder air.
Here is the hi-res NAM model showing the snow accumulations over through Sunday night…again this will spread eastbound into the NE part of the country.
I'm not convinced though that N MO nearest the IA border gets all that snow that far west…there is going to be a LOT of melting I think tomorrow.
For total precip…the moisture is welcome for sure…whether it soaks into the ground or runs off into various ponds/lakes…we will mostly welcome (except for the timing on the weekend) this rain.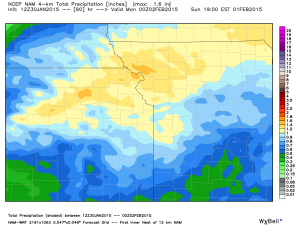 Again the map above shows the total rain/melted snowfall. It may be a bit generous for N MO…and again you can see that IF we were a few degrees colder in the bottom 2000′ or so of the atmosphere…and even using a 10:1 ration…you'd end up with widespread 6-12″ of snow. It would be a bear to shovel (heavy and wet) but it would effect the weather through next week here keeping things colder.
Areas to the NE of KC…especially into NE MO are under a Winter Storm Watch as of 2PM. Macon, Chillicothe, Trenton and Bethany are on the fringe of this watch.
The counties highlighted in blue in the above map are the Winter Storm Watches (as of 2PM).
One of the reasons why I stuck another nail in the winter of 2015 coffin today (again 3 nails to go) is that I was really disappointed at what the modelling was suggesting for the next 10+ days…
We've got cold shots on the way for Sunday PM into MON…WED into THU…then maybe something fast moving the following week. Taken as gospel and with no snow on the ground for many areas of the Plains…I could see a path to more springtime weather later next week into NEXT weekend again.
Here is the day 10 forecast off the EURO model for the 9th of FEB. This is NOT a good look for winter…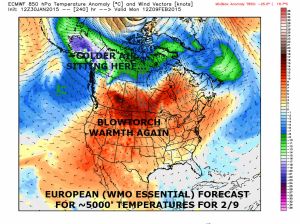 The only saving grace for winter lovers is that there is at least cold air in AK. At some point down the line it would have to come into the region…but gosh…it's NOT cold. Taken as gospel (always dangerous) even cold fronts that come through will be punchless and with the down-slope flow and the lack of snow on the ground well let's just say I would not put the shorts away for FEB.
Just crazy.
Now that I've written all that…a depressed or cheered you up depending on what type of winter you want…here are the updated snowfall chances/categories for the region.
South of KC from Ottawa-Paola-Harrisonville and Sedalia southwards:
Nothing -1″: 90% Chance
1-2″: 10% Chance
2″+: 0% Chance
The KC metro area:
Dusting to 1″: 75% chance
1″-3″: 20% Chance
3″+: 5% Chance
Holton, KS-Atchison, KS-St Joseph-Chillicothe northwards to IA Border
Nothing to 1″: 30% Chance
1″-4″: 50% Chance
4″+: 20% Chance
It is what it is…and it's not white.
Joe