This is an archived article and the information in the article may be outdated. Please look at the time stamp on the story to see when it was last updated.
We're in the midst of finishing a very warm June in the KC area. Temperatures are running about 5° above average…and with the exception of a "cool" May…every month since last September has been above average in terms of temperatures in the KC area. An important note though…it appears the 1st few days of July will be below average…and potentially big-time below average over the weekend.
Forecast:
Tonight: Partly cloudy and mild. Temperatures in the 60s
Friday: Sunny in the morning then increasing PM clouds. Not as muggy with highs 80-85°.
Friday night: Showers/sct storms are possible after 8PM…becoming numerous near or before daybreak on Saturday. This will be round 1. Lows dropping to 60-65°.
Saturday: Rainy with some embedded thunderstorms. No severe weather is expected. Very cool for early July with highs only 65-70°. We may potentially be close to a record cool high temperature. More on that in the discussion.
Sunday: Rain/storms in the AM>early afternoon. We may try and salvage things later in the afternoon. Highs 70-75°
Monday: Variable clouds with a lingering 20% chance of some showers. I think we should be OK for the area fireworks displays in the evening. Highs 80-85°
Discussion:
Let's deal with what's going on this afternoon before I get into the weekend. There is a cold front of sorts tot he north of KC…already some new cells have popped along the front. Some may contain some hail. This front is dropping towards the south.
The activity isn't very widespread and will not last for too long. The evening in KC looks OK to me at this point. There is some pretty decent instability out there this afternoon as temperatures are well into the 85-90° range. it wouldn't shock me IF the cells stronger cores can produce at least some hail as they get stronger. Again the timing for this should be from now through 6PM or so through the metro…then the chances are higher towards the south of KC proper.
Now onto the weekend.
The NWS in Pleasant Hill and Topeka has issued a Flash Flood Watch from Friday evening through Sunday. The most concern for me though would be over the weekend…not so much during the evening on Friday. The GREEN counties represent the current WATCH.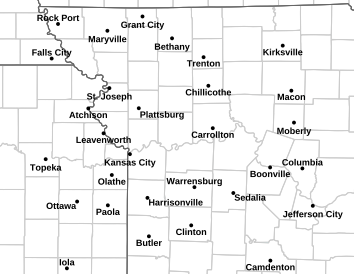 There hasn't been a lot of changes to the model data…if anything there is a stronger surface set up with a stout warm front setting up near the area…a strong low level jet stream overriding the front and several disturbances coming out through the Plains states to really get everything going. Yesterday's blog has additional details. Here is a look at the morning model runs of the NAM and GFS model.
2 model forecasts…NAM model (L)…GFS model (R). Rain thru 7PM SUN. ???s about heaviest axis. 5-8+" possible. JL pic.twitter.com/GVW3ucMfqw

— Fox 4 Weather KC (@fox4wx) June 30, 2016
The latest EURO model is also well in this camp with the heaviest axis right on top of the I-70 corridor. There are restrictions in terms of the graphic I can show you but I can tell you that the model is cranking out 4.0-5.5″ of rain through the KC metro over the weekend.
Adding confidence is a look at the various ensemble runs of the GFS model…again all targeting this region with several inches (at least) of rain.
So confidence is teetering into the very high range for torrential and flooding rains. There will remain questions till everything sets up tomorrow evening into SAT AM about the exact placement of the heaviest axis of the rain…thinking 4-8″ potential. It could be anywhere from the 36 highway corridor to the 50 highway corridor or anywhere in between.
What's interesting as well is that the month of June has been so darn dry for many areas. N MO is OK with moisture and areas south of downtown got some big rains last Sunday but in between…this is our 5th driest June (officially at KCI) through the 29th for KC and the 2nd driest at the airport in particular in the last 44 years.
So this heavy rainfall event will be falling into a very dry area mostly.
I mentioned that another record (weirdly) may be in jeopardy on Saturday. Here are the coolest high temperatures on 7/2.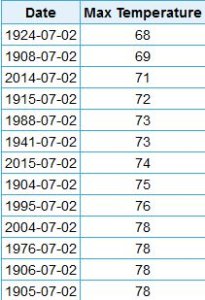 Depending where we are at 12AM early Saturday…and if what I think plays out on Saturday…temperatures are going to go nowhere. That means we potentially may be in record cool high territory as well.
The records for rainfall for KC on Saturday is 3.24″ (1905) and for Sunday is 1.75″ (1912).
For those who have plans on this holiday weekend…and those plans are outdoor related…be alert to this rain potential. IF you're camping near a creek or river that is known for significant rises be ALERT for that potential. IF you're basement is prone to flooding…and you have a sump pump…make sure it's working properly. If the kids have outdoor events…have a plan B ready.
One of the characterizations of this scenario is that a strong warm front will establish itself just south of KC. So much so that IF you want to get away from a chilly Saturday and you drive 3+ hours towards Wichita…it will be like a sauna there. Take a look at the model forecast for the region on Saturday from the NAM model.
Notice that strong variation from KC (near 65°) and Wichita (near 95°). That's impressive for July and shows the strength of the rain cooled air butted up again raging summer heat. heck SE KS may well be into the 90s as well…
So as a low level jet stream "overruns" that boundary lurking south of KC…continuous areas of rain and thunderstorms will develop over the weekend off to the west of here and move eastwards. There may be some lulls every so often..but there should be many hours of rain in the area through Sunday morning at least.
As I mentioned yesterday there is some potential that the model data could underestimate the rain cooled air mass and it's southward drift. Sometimes this manifests itself because this shifts things southwards with time. In other words would a south shift of the heaviest (in the end axis) shock me..no. That though won't be figured until Saturday.
So again be weather aware over the weekend. It's not a severe weather situation locally so that's helpful.
Joe