This is an archived article and the information in the article may be outdated. Please look at the time stamp on the story to see when it was last updated.
This is a busy month for yours truly. Thursday I was in Albany, MO, about 20 miles west of Bethany, talking to the community and the farmers about the changing weather in this part of the country. Today I'm in Lawrence at the Douglas County Severe Weather Symposium. I'll be doing a presentation later this afternoon about common websites that you can use to help forecast the weather and get an idea about what's happening in the area. It's geared for weather enthusiasts and features many of the pages and images that I show routinely here on the blog. This is my busiest month of the year with community appearances. I have about 15 booked and I have 4 coming this week including an appearance in Trenton, MO  and Grundy County. That appearance will be a storm spotting talk on Thursday night. It's all in preparation for severe weather…and since this coming week is severe weather awareness week and Wicked Weather Week at FOX 4…it all ties together!
---
---
Forecast:
Today: Sunny skies and warmer with highs into the 60s. Breezy as well with gusts to 25+ MPH
Tonight: Clear initially but some lower clouds may move in towards daybreak. Mild as well with lows in the 40s. Breezy too with gusts to about 20+ MPH.
Sunday: Mostly cloudy…there may be a few sprinkles or scattered light showers. Warm and a bit more humid as well as the dew points start to gradually come up. This is a bust potential forecast because of the low cloud situation. The thicker and more persistent they are the cooler we could be (50s). IF we get enough breaks…60s. Winds will also be in the 20-35 MPH range. I have a sneaky feeling that the models are being too aggressive with the lower clouds that they"re forecasting…hence why their so cool for tomorrow. I think that moist
Sunday night: Some scattered showers are possible. Overall rain amounts into Monday AM should mostly be under 1/4″ on average. Mild with lows in the 40s to near 50°
Monday: Fast moving showers in the morning…maybe a few early AM thunderstorms as well.
---
---
Discussion:
So a busy day as mentioned…
Spending my morning and afternoon with all the folks at the @dgcoem severe weather symposium pic.twitter.com/b4vVLu0PlJ

— Fox 4 Weather KC (@fox4wx) March 3, 2018
I'll be speaking this afternoon…then helping out for a bit with a panel discussion…the getting back to the studiio for the 6PM News tonight. So i'm listening and typing this blog out at the same time!
The forecast overall hasn't changed that much. There is still bust potential for Sunday…because of the lower clouds that are going to fly northwards and develop too overnight. The issue is the extent of the clouds towards KC or will the clouds be more focused out towards the west of KC. IF so we'll have no problem popping well into the 60s again.
A cold front will be zipping through the region on Monday morning. This front will sweep away the moisture 1st thing in the morning. Strong west wind will crank up on Monday behind the front…this will usher in MUCH drier air into the region as a strong surface storm develops across the northern Plains.
There is going to be a blizzard up there…or at least a strong winter storm. The folks from Pivotal Weather have the latest watches and warnings up there.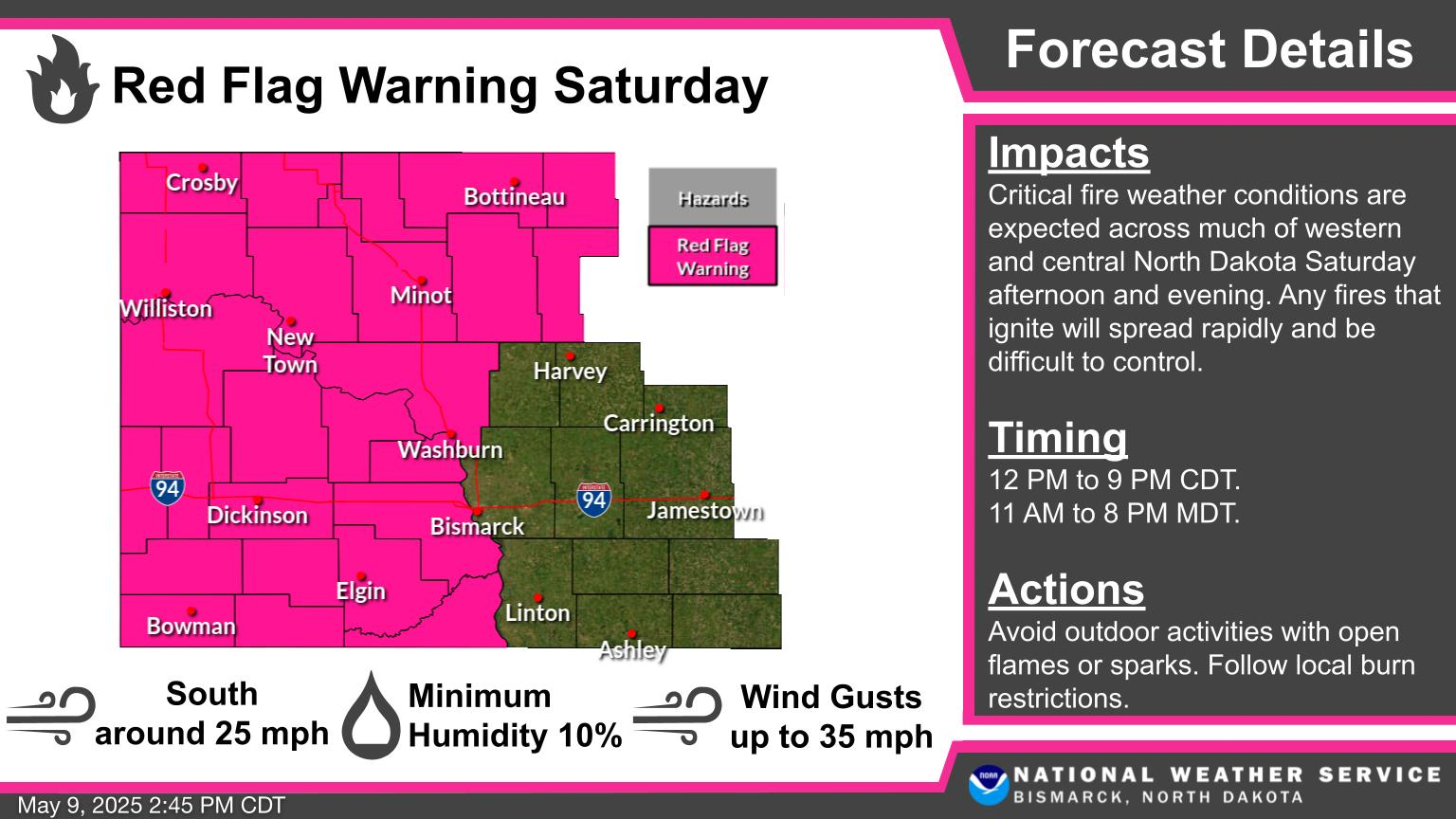 Winter storm conditions possible Monday and Tuesday west of the James River valley coupled with very strong wind. pic.twitter.com/ZdRnPfWax8

— NWS Sioux Falls (@NWSSiouxFalls) March 3, 2018
The NAM forecast for late Monday shows this storm nicely…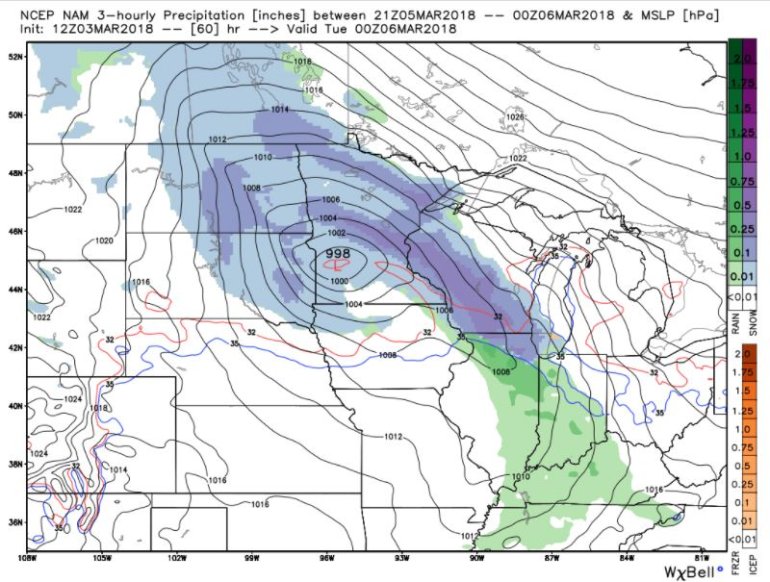 That storm though will be drifting around for awhile…and gradually sinking towards the ESE…this will mean it will influence our weather for a few days…probably into Wednesday morning. It's main effects for us, after Monday morning, will be wind…and clouds on Tuesday afternoon. In addition this is going to bring in a chunk of colder air, especially starting Tuesday that may be tough to shake off for most of the upcoming week.
The bottom line is mild weather this weekend and then OK on Monday followed by chillier weather after that.
Meanwhile the big eastern storm is slowly pulling away…what a storm it was. Snow totals are over 3 feet in parts of NY…while the wind has caused millions to be without power…an that is still an issue today.
For many, the legacy of yesterday's storm will be the winds. Numerous trees were knocked down, cars & structures were damaged and millions were left without power

Here are some of the top wind gusts pic.twitter.com/OX1zDKbEmj

— Greg Diamond (@gdimeweather) March 3, 2018
Coastal flooding was almost off the charts with this storm…and the onshore winds continue to increase the high tide potential…
Very impressive…
This was the scene yesterday…wow!
The ferocious seas off #Scituate. Thanks MA Coastal Coalition for sending the video. pic.twitter.com/wuCim4RqON

— Robert Goulston (@rgoulston) March 2, 2018
and the results…
Incredible washover on Rebecca road in Scituate, MA. Still have another high tide to go through at noon. Winds still gusting over 45mph. pic.twitter.com/NBWPKXt9qQ

— Jim Cantore (@JimCantore) March 3, 2018
A storm that many will remember…and while a mid week storm won't be as bad…there may be a weaker version of what happened…later this week!
Our feature photo is from Brian Wood…his son lives back east…NW of Philly…this was his scene.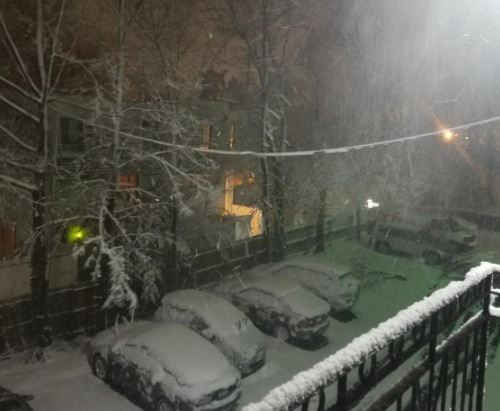 Joe