This is an archived article and the information in the article may be outdated. Please look at the time stamp on the story to see when it was last updated.
The morning is starting out with clouds and blustery conditions around the KC area as colder air is starting to move southwards. We had a 12AM high of 36° (seems like we've done that more than a few times this winter) and temperatures will be struggling today. In addition strong N winds will make it feel significantly colder as the temperatures slowly trail off as the day moves along.
Forecast:
Rest of today: It will take awhile but the snow should start to fall (mostly light) towards lunchtime and then be done before evening rush. Amounts look to be on track with a dusting to about 1 1/2″ (more towards <1″) possible in the KC area. Timing though may create problems for the evening rush. Something to watch. Also amounts should be higher towards the IA border (2-4″). As the snow moves towards the I-70 corridor it may be weakening. Plus it won't last but a few hours so that's why anything more and 1 1/2″ (being VERY generous) will be tough to come by in the KC area. Temperatures dropping towards 20° later this afternoon. Wind chills will be in the single digits.
Tonight: Clearing and bitterly cold with lows in the KC area closer to 0° and for N MO 5-10° below 0°. Lighter winds.
Thursday: Fair skies and chilly with highs in the 20s.
Discussion: (updated at 1PM)

Everything is proceeding according to plan…it's really going to struggle to amount to much in the KC area proper whereas amounts towards 36 highway have been 1-2″ or so then into N MO 2-4″ has fallen. The area of snow is weakening as expected and the south side of the KC metro will not get 1″ I don't feel. Here is a look at the NWS radar.
Notice how the snow is starting to become more patchy in nature (the decent snowfall rates at least). Never a good sign to be seeing that on radar as something is pushing into the metro area.
After looking at the latest data…the only thing keeping us from the potential record high of 69° on Saturday may be a lack of wind. There are indications that the winds may only be in the 10-20 MPH range on SAT. I would really like to see those winds be stronger to "mix" out the lower part of the atmosphere. As I mentioned we're still talking 60s though…maybe a struggle to get to 70°. In a way though…65° with lighter winds is better for many than 70° with crazy wind though.
Sunday still looks nice despite a weak front moving through…probably 50°+ or so.
NO signs of any significant snow in the forecast after whatever moves through the region this afternoon.
---
I'm not sure what more I can add to what I wrote yesterday…this will not really be a shovable event for us (unless you really want to shovel). If you want to it should be a wind blown fluffy type of snow as opposed to the wet "heavy" snow from the weekend.
It will blow in and out in the matter of about 3-4 hours…and with that risk comes a Winter Weather Advisory from KC northwards towards the IA border. The snow is falling nicely across the I-80 corridor as I type this..but there should be a weakening trend as the morning moves along.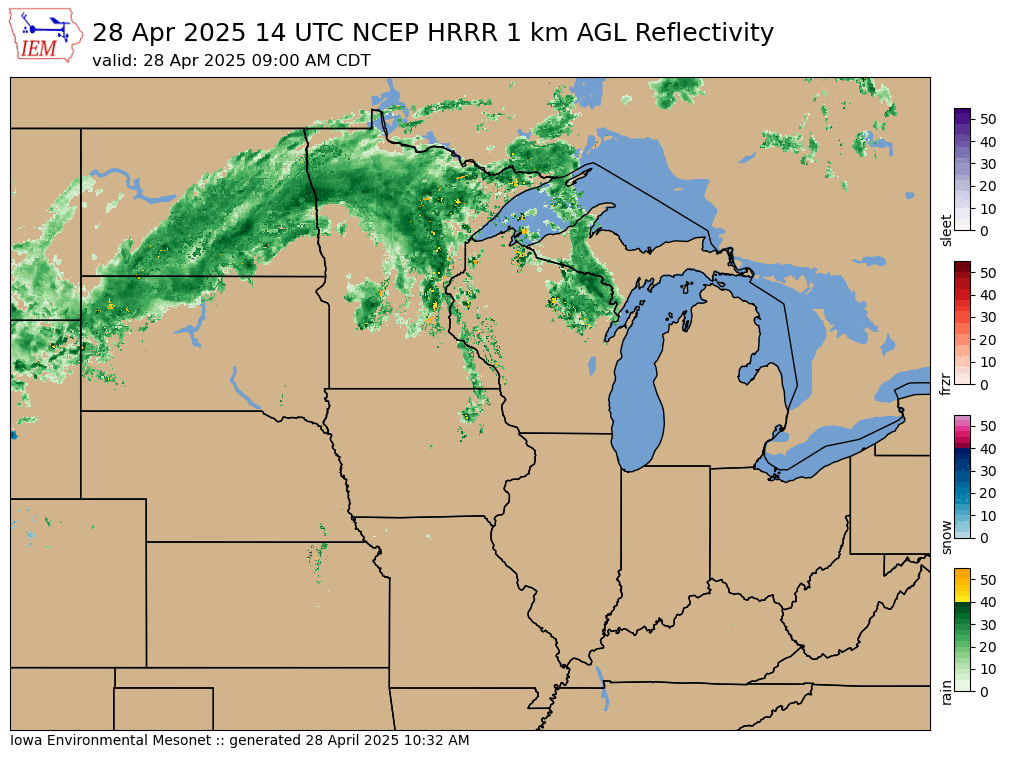 The above model is the HRRR which should auto-update from IA State. It indeed shows pronounced weakening of the band of snow as it moves this way…and on that assumption it may be a struggle for us to get more than 1″ of snow in the KC area.
Just remember the timing of this and perhaps some effects on the evening rush.
After the cold weather tomorrow…we're back into a warmer regime as highs on Friday should be near or above 50° and on SAT well into the 60s. The record on Saturday is 69°. We need to eliminate all the snow on the northside of KC for that to even be in the conversation. KCI is showing a 0″ for snow depth this morning…and what we get today will be gone by FRI PM…so as I mentioned yesterday this is doable with all the right things happening at once. I'm not sure IF we're going to have enough wind however to stir things around…to maximize the heating. Regardless 60s look very possible (if nothing else).
Meanwhile after breaking a record for the driest JAN in San Fransisco weather history…this are about to get wet again for northern CA. A nice surge of Pacific moisture is heading there way over the next few days…
The animation above shows the PW or precipitable water as detected with satellites…you can see the higher moisture in the atmosphere circulating near and north of the equator and also a nice fetch developing west of CA this morning with connections all the way towards HI. That moisture will be brought into N CA and thrust up the mountainsides yielding a lot of rain and heavy higher elevations snows.
It may not do S CA much good…but it's going to be of help to N CA…after the flooding of course. Some of the higher peaks may see in excess of 12-16″ of moisture.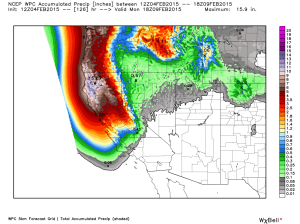 Here is more information for the San Fransisco area…a lot of wind expected on Friday for them too…
https://twitter.com/NWSBayArea/status/562961844147859457/photo/1
That's it for today…the next 2 days are blips in an overall mild pattern that will continue into the 15th I think. A few quick hitting cold shots will occur in that span. After all that time we'd probably be due for at least some colder weather…
Joe