This is an archived article and the information in the article may be outdated. Please look at the time stamp on the story to see when it was last updated.
10:15 Update:
Well the new data has come out and really for all intents and purposes I see no need to change anything that I wrote about this afternoon…timeline wise things are still looking OK…AM rush on TUE is the question…we may sneak it in OK but the PM rush should be a mess. Also schools MAY have a tough decision to make because the kids may be able to get to school OK…but the trip home may be dicey and they MAY have to decide whether or not to cancel school moreso because of what may be coming as opposed to what will actually be on the ground.
The newest NAM model actually has increased the amount of potential snowfall along the I-70 corridor. I'm still not sure if I'm all in on that potential yet…the model also shows some areas getting less snow than the I-70- corridor including the counties nearest the IA border…again wobbles in the heaviest snow tracks are expected with each model run.
Something is still nagging at me about this storm though…I don't know if there is some rogue dry slot or what…but something still looks a little "off" to me. Regardless…4-8″ is still an appropriate forecast right now I think…with tinkering for sure coming tomorrow and tomorrow evening before the storm begins.
Have a great night and I'll start updating the blog again tomorrow morning before 10AM. I expect to do a couple of updates tomorrow so I'll let you know about that.
JL
Good afternoon…I'll try and get a blog update done by 10PM tonight or so. MY thoughts/timeline on how the event plays out are at the bottom of the blog.
Remember that do to the post game show + FOX programming our next news should be on sometime between 10:30 and 11PM or so. Also remember to follow me/us on twitter @fox4wx !
A Winter Storm Watch has been issued for the entire region for Tuesday into Tuesday night as our western storm that's off the N CA coastline is forecasted to take a familiar track to produce accumulating snows into the region starting around AM rush on Tuesday. There are still questions as far as how this will play out however and while the model data (GFS/NAM) us very bullish on easy 6″+ snows in the area…I do have my usual concerns that some model data is still not there (EURO/Canadian) and I'm really wondering if some of that later data is sniffing out a dreaded dry slot in the atmosphere that may strip away some of the best snow-producing moisture.
Let's start with the basics…where is the storm now? This water vapor loop from Rutgers helps identify the storms location. For those not familiar with the water vapor loop…it's more like an atmospheric x-ray that highlights the moisture throughout the atmospshere
I think you can obviously see the storm's location…notice it off the coastline of San Francisco. It is bringing much-needed rainfall to parts of CA…which is a good thing!
What is the forecast track of the storm…for that let's look up at the 18,000′ level and see how it moves from the west coast towards the SW part of the country then goes through some evolutions into the central plains (that evolving scenario concerns me in a way). Here is the NAM model…and you can see two decent+ waves…one in the southern Plains today producing the snow in OK…the other the main concern for CA.
For those not familiar with the timing of this stuff…12Z is 6AM…18Z is Noon…00Z is 6PM (that day..i.e. 00Z TUE is 6PM MON) and 06Z is 12AM.
So you can see the storm clearly moving through the Plains states on Tuesday and then moving into the OH Valley area WED.
OK now the models will have the hardest time forecasting precipitation. There are just so many things that happen in the atmosphere than generating precipitation and the amount is always the toughest thing to do. Some models generate precip way too easily…others generate too much. When you factor in the winter season sometimes it get's messy when trying to figure out who gets what…is it all snow…is there a transition line to sleet or freezing rain.
Thankfully this time it looks like the atmosphere is cold enough throughout to keep all that falls snowfall as opposed to anything else. There could be some precip type issues into the Lakes area I guess. Here is the NAM model idea for precip. locations.
Now since we're going with an all snow scenario for the vast majority, if not the entire FOX 4 viewing area..let's see how much the models are cranking out. First the NAM model…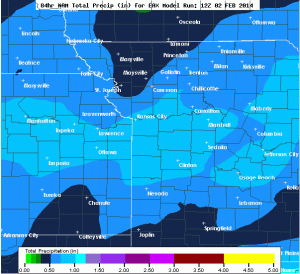 Using the legend at the bottom and roughly a 12:1 conversion of liquid to snow….. 3/4″ of liquid would yield to roughly a 8-11″ snow forecast for the KC area. Again this is just a model interpretation.
Now let's move to the GFS model and see how that's laying out the precipitation.
A very generous 1″ for the entire KC metro almost with a bulls-eye of 1.25″ across Atchison Co, KS…again 12:1 ratios…yields a forecast based just of this model of 10-14″.
Wow the snow lovers are jumping up and down right now.
But not so fast…
There are a couple of other models that are raising RED flags for me…or maybe yellowish red flags. The EURO and the Canadian. It's not as if those models have nothing…they have us all in the snow…but both models are more along the lines of 3-6″ or so. Here is the Canadian model…and when the Canadian isn't generous with snow…one needs to step a bit more cautiously because this model is usually way over aggressive with snowfall.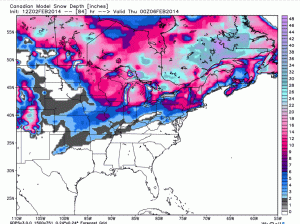 Now this model image takes the liquid and coverts it 10:1 to snow…so 1″ of rain equivalent equals 10″ of snow…that ratio will be a little too low with this storm set-up as I mentioned above…I think it's more 12:1 with this storm…so let's for the sake of brevity say this model is more or less shooting for 3-6″ of snow for the KC region.
The higher resolution EURO model is also in the snow camp too…roughly going with 5-9″ while the lower res EURO model is not as bullish with 3-6″
So where does all this lead us…well the models are just that…models. They should be used as guidance…experience helps a bunch and looking at what somewhat similar storms in the past have done is very handy (using analogues). The later method also is solidly in the snow camp indicating that past storms have produced widespread 4-8+" snows through the region.
So where am I personally using all the tools above and what my gut tells me?
As of said on the air since yesterday…I think this is AT LEAST a 4″ snowstorm…so using that as a starting point…I'm pretty comfortable with a 4-8″ swath of snow from the Lakes region up towards the KC area. Still not totally sure how to play out N MO…so let's say 4-8″ for you as well for a starting thought.
What is my BIG concern about this (actually I have at least 3)…#1 is some sort of the dreaded dry slot. I think there will be one…it should pass closer towards the I-44 corridor/Lakes region…so that's why areas towards Sedalia/Clinton/Butler may be more in the 4″ (give or take) territory. Right now(!) I think the KC metro will avoid that dry slot and hence the higher totals.
For those that don't know a "dry slot" is a layer of air in the atmosphere, often around 10,000 feet up (there abouts) that will be sucked into the storm from the SW. It comes in and effectively eliminates the moisture in the snow bearing cloud layers…stripping the storm of it's best snowfall generation. They can ruin a perfectly good forecast and is something that will take my 4-8″ forecast and kill it to a 2-5″ snowfall. Confusing maybe but they are so important in tracking as the storm evolves.
#2) Is that on the other side of the storm in the warmer air…towards the MO bootheel/ E AR…W KY and W TN there should be thunderstorms. On occasion we've seen these bigger lines of storms interrupt the moisture flow as the storm tries to wrap itself up into a tighter circulation…so that the best moisture is not sent over into the coldest snow producing air where we are. I'm more concerned about #1 as opposed to #2.
3) Finally the end track of the features in the atmosphere that we track…from 5000′ to 18000′ up…all need to be somewhat in sync for the snow to be maximized…this concern is always present from 36-48 hours out when waiting for a storm to come ashore and actually get sampled by our weather balloon network.
So let's go over a timeline…
Now through Monday Night: Fine…moderating temperatures on Monday with highs near 30°
Monday Night: Clouds lower and thicken…temperatures drop into the 20-25° range
Tuesday AM: Snow moves in around daybreak (there may be some advance snow bands) AM rush potentially impacted. There is some hope it can squeak through if things develop a bit slower.
Tuesday late AM-Evening: The brunt of the storm. Snow of varying intensities will be with us. Winds will be out of the NE at 10-25 MPH so there will be blowing and drifting. Temperatures should be near 25° for most of the event during the day…then start to drop off at night. Road crews may be able to keep up with this for awhile. My thought is that the PM rush MAY be worse than the AM rush. That thought though is VERY subject to change!
Tuesday evening-3AM Wednesday: Snow tapers off. Again MY initial thoughts are 4-8″ for the KC area…there will be drifting going on.
Wednesday: Bitterly cold with clearing skies…highs near 10°
Thursday AM: Need to watch this….temperatures may crash WED night into early THU AM to below 0° however I continue to think that some sort of mid level band of clouds will be moving in before daybreak on THU preventing temperatures from dropping to -5 to -15°. IF those clouds are not there…watch out for the coldest night of the season so far!
More later…1400 words…yikes!
Joe