This is an archived article and the information in the article may be outdated. Please look at the time stamp on the story to see when it was last updated.
Good afternoon…
I hate ice…
See you tomorrow…
Just kidding…but you get the drift. Doesn't do anything for me. Another batch of ice is moving through the area as I type this…however with all the treatment on the pavement the roads should be OK for the evening rush (if they've been treated). Obviously untreated roads though and other exposed surfaces aren't so good. Just walk very gingerly from point A to point B.
This will be round #3 guess…round 1 was the worst of this…and another round of rain is likely to start the weekend…maybe two rounds. Then finally by Sunday things will be more agreeable.
---
---
Forecast:
Tonight: After the late afternoon stuff is done…we should be cloudy and perhaps a bit misty overnight. Temperatures should finally be near or above freezing for many areas from the KC metro region southwards. Some areas, up to the north of KC, towards 36 highway and north will still have issues cracking 32° for awhile. The Winter Weather Advisory for up there continues through 12AM or so. For the Metro it ends at 6PM tonight (hopefully). The counties in blue are under that advisory.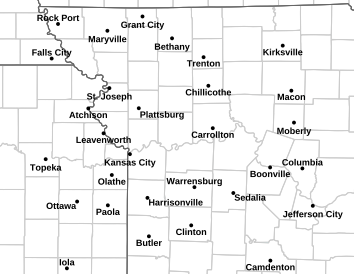 Friday: Clouds hang tough…the morning starts at 32° or so…with some refreezing possible in some areas…especially on the north side. So again…pay attention to those untreated areas and watch for black ice. During the afternoon some pretty gray skies are expected with temperatures only around 40°
Saturday: More rain comes into the area…most likely in liquid form in KC and south…with some freezing rain/drizzle at the outset possible near and north of KCI
Sunday: Better with more sunshine…milder with highs around 50°
---
---
Discussion:
Temperatures across the region have slowly come upwards today…and I mean slowly. The 2PM surface map shows the near freezing air coming into the KC area…with above freezing air to the south of here…
Here is a look at radar…
BTW…there have been issues today with the radar system. Bad enough, but when it's on a 300 foot tower or whatever it is…and that tower is made of medal…and there's been freezing mist/drizzle going on for hours…you can't just run up a ladder to fix things…
Ice isn't just hampering travel, it's also making maintenance difficult! All of our technician staff are chipping away at the ice to reach our radar for emergency repairs. pic.twitter.com/ipcKHNFjN6

— NWS Kansas City (@NWSKansasCity) February 22, 2018
Meanwhile the last batch comes up through the area into early this evening as the HRRR model shows.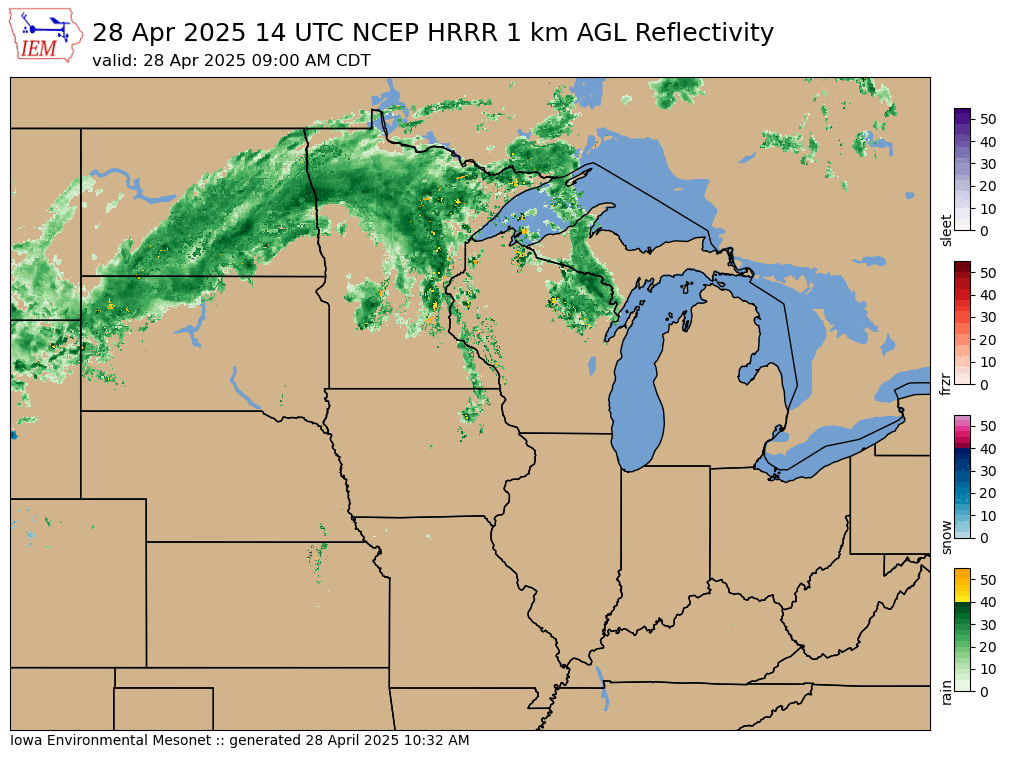 It really won't get out of here till after 12 AM or so…and even behind it…there still might be some mist…but by 12AM our temperatures should be close to what the HRRR shows.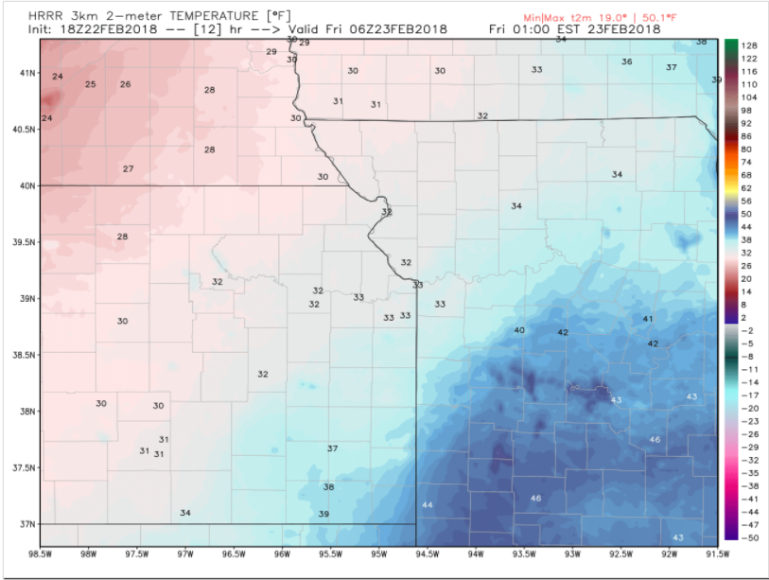 There are still some areas struggling near 32° in the map above…so again some pockets of slickness may be out there.
Overall I'd rather have snow…
Our next system. coming our way early Saturday is in the western part of the country.
That will be coming into the western Plains and moving into the upper Midwest on Saturday. At the surface there will be a low pressure area somewhere in the Plains that may drop south of here…keeping us in the chilly weather. There will be 2 main chances for rain…in the AM before 9AM…then in the afternoon near or after 3PM as as wind shift moves through the region.
Again Sunday looks better.
We should be milder Monday>Tuesday with highs well into the 50s
So did you happen to catch what happened along the eastern part of the country yesterday…my goodness it was warm.
81 max temperature records tied or broken yesterday, Wed., Feb. 21, 2018. H/T @whatdoweseehere pic.twitter.com/jt9hOkeL9a

— Greg Carbin (@GCarbin) February 22, 2018
As a matter of fact there were some ALL-TIME FEB highs mixed in as well..
An update for the high temp today at Bradley Airport – a spike to 77F this evening makes for a record for the date, month, and also season! Highest observed in Dec-Jan-Feb. pic.twitter.com/ugjaoPP0kc

— Eric Fisher (@ericfisher) February 22, 2018
What's even more amazing, when looking at the upper air maps…was the extent of the warmth through the lower part of the atmosphere…
In a nutshell: "the most extraordinary heat event to ever affect the northeastern quadrant of the U.S. during the month of February," in records going back to the 1800s. https://t.co/nfZobgpVKQ pic.twitter.com/xNmXv0tHDr

— Bob Henson (@bhensonweather) February 22, 2018
and another opinion…
My plot doesn't do it justice but the 595 dm "heat" ridge along the US Eastern Seaboard is in my opinion one of the most impressive weather records that I can ever recall in my lifetime. It takes incredibly warm air through the entire atmospheric column to support this feature. pic.twitter.com/431iZA1qxs

— Judah Cohen (@judah47) February 21, 2018
Now note what happened today…doh!
How fast can the weather change across the Northeast? Monthly record high temperatures yesterday, snow and ice today. Record warmth still occurring today across the Southeast. pic.twitter.com/rL8bgNBdl7

— NWS Eastern Region (@NWSEastern) February 22, 2018
Got to love the changes…
Speaking of which…after the middle to end of next week…things may get somewhat more interesting from a storm and moisture scenario…
I'll be getting more into this in the morning blog tomorrow…but this intrigues me…especially is late Winter.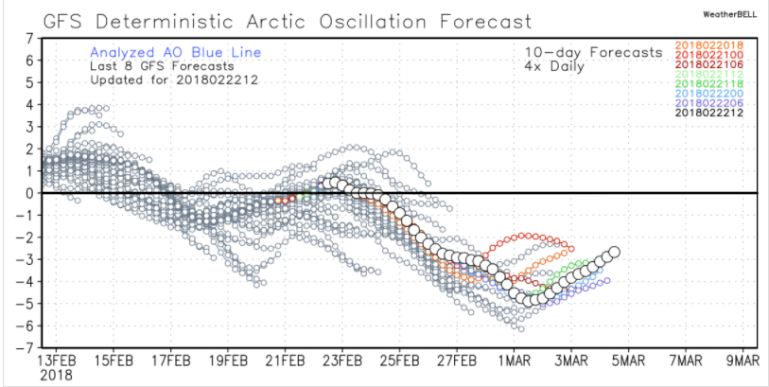 So that plunge of the NAO…or North Atlantic Oscillation. This is an indice that helps to show blocking in the atmosphere in the northern latitudes (in this case near Greenland). It's only one though…but there are others that are connecting with this as well. During late Winter and Spring…as we transition seasons and the warmer air keeps building south of the region and with lots of residual cold weather in Canada and parts of the US…suggest to me that some rather significant storminess is becoming more likely in the USA. Whether it involves our region or if we're the starting point to more significant weather towards the eastern part of the country remains to be seen but there may some some active weather to track.
Our feature photo comes from Savy Photos Photography of a leaf encased in ice.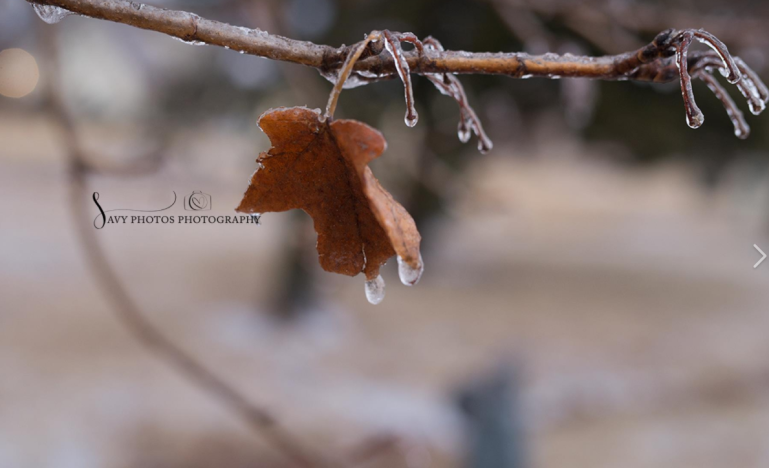 A scene repeated through the region lately…
I should get the Friday blog out by 12PM or so Friday!
Joe