This is an archived article and the information in the article may be outdated. Please look at the time stamp on the story to see when it was last updated.
I got in one last day of golf yesterday before the weather gets a bit too hot for me to walk the course. Today is the 1st step in that direction and tomorrow into Saturday will be smack into the hot stuff…with nasty heat and pretty high dew point levels as well. That means higher that typical heat indices and that correlates to the Heat advisory which will be in effect from this afternoon through Saturday. We should have some relief from the extremeness of the heat on Sunday and Monday of next week. In addition to that there is a Ozone Alert as well for today.
---
---
Forecast:
Today: Hot with sunshine and highs 90-95° (Heat Index: 95-100°)
Tonight: Muggy with lows in the 70s
Thursday: Hotter with highs 95-100° (Heat Index: 100-105°)
Friday: Ditto
Saturday: Ditto
Later Saturday night>Sunday AM: Storm chances…heaviest in N MO with severe weather possible there especially (wind and some hail)
Sunday: Not as hot with AM rain chances…highs well into the 80s
---
---
Discussion:
Every so often a region of severe storms…will throw a quick hitting curve ball at us. That was the case yesterday as a brief and quick hitting EF0 tornado hit a small part of Jackson Co, mostly around the Lake Lottawana area. There was some damage as well from this 100 yard wide tornado that had winds of under 85 mph.
Reason for the now cancelled tornado warning in JACO MO…no touchdowns reported at this point. JL pic.twitter.com/56zNWeUx4L

— Fox 4 Weather KC (@fox4wx) June 26, 2018
@NWSKansasCity @fox4wx
My daughter took this at 1:08pm near Colbern rd & 7hwy Blue Springs pic.twitter.com/aoL6S3Morr

— Mark Schierholz (@Dadiosradios959) June 26, 2018
Inn the radar image above (and this was using the lower resolution radar data) you can sort of make out the couplet. Notice the red–pink/green-blue combination. This is the velocity data from the radar information at the NWS in Pleasant Hill. The reds means the winds are blowing away from the the radar while the greens mean the wind is blowing towards the radar. Where the are butted up against each other is where there is a circulation. Since the circulation was so close to the radar site and the radar beam was getting a good image of it…a tornado warning was issued.
Tornado Warning including Oak Grove MO, Lake Lotawana MO until 1:30 PM CDT pic.twitter.com/UuOHmVGvvy

— NWS Tornado (@NWStornado) June 26, 2018
I received this picture this morning from a viewer…this would be out towards Kingdom City, MO towards the Jeff City area
@fox4wx yesterday on I -70 near Kingdom City. pic.twitter.com/wSTvWgPqLn

— Seth Brown (@panesanddrains) June 27, 2018
Yup…that's the real deal. It reminds me of that brief tornado that hit the Lees Summit area a few years ago on July 1st I think.
Our survey crew has returned and created a map of today's EF-0 tornado path through Lake Lotawana. Max wind speed is estimated at 80 mph, path length was 3.4 miles and maximum width was 100 yards #mowx pic.twitter.com/UoapF8TFKu

— NWS Kansas City (@NWSKansasCity) June 26, 2018
Elsewhere…some needed rains hit parts of the area…but again there were winners and losers…my house would fall into the latter category. Between the drips in the AM yesterday and the drops in the PM…I had a whooping .25″ or so. Essentially I'm down to less than 1″ in the last couple of weeks I think (if not longer) and that explains why my grass has the typical late July appearance. Lots of brown showing up now.
There were a handful of other, more typical severe weather reports as well.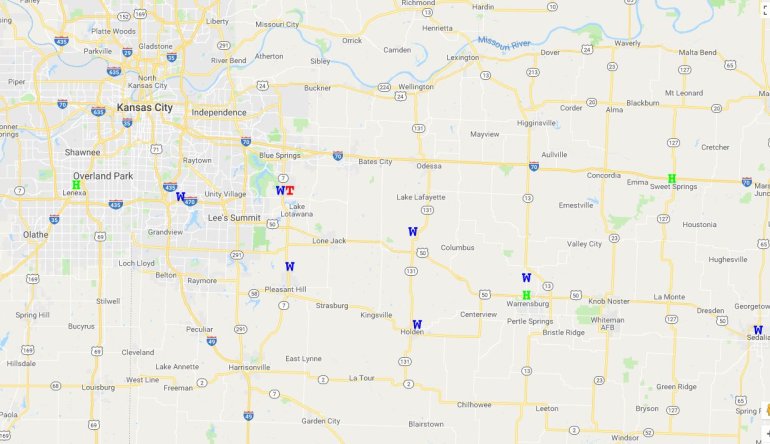 There was also a more nasty tornado in Eureka, KS that did do more extensive damage towards the east of the Wichita area. That happened around 7:15 or so last evening.
The one though that effected our area was a weird one though. From a coverage standpoint it catches you by surprise sometimes when you see the warning issued. You have to go from 0-60 MPH in seconds and that is always not fun when you're in the mode of covering hail and/or a wind event from storms. The radar data didn't lie though and the higher resolution data definitely showed "something" there for a couple of scans…then it was gone.
Onwards….
The heat…
Did you know…
I sent this tweet out last night…because the NAM model was going crazy with the temperatures on Thursday.
This model, I believe, is tanking dew points in the lowest part of the atmosphere too much! As a result the surface temperatures soar to above 105°. The last time @KCIAirport was 100°+ was 9/8/2013…or 1753 days ago! Map is for THU afternoon and I think too extreme in KC. JL pic.twitter.com/k5TgbWHA0j

— Fox 4 Weather KC (@fox4wx) June 27, 2018
Today we won't hit 100°…so today is day 1754. We'll see about Thursday @ KCI.
Yup its coming back and will last about 3 days or so at it's worst. A cold front will move into the area later Saturday night into Sunday. As I wrote yesterday there should be some big storms to the north in the evening on Saturday with all the heat and humidity in place. This will create a ton of instability up towards southern IA/SE NE/NW MO and NE KS later in the day/evening. The storms could be severe (wind/hail threats there). The issue for KC is that this will be happening about 3-6 hours too early. By the time the storms sag south, the atmosphere locally will not be as unstable BUT I have a tough time believing that we won't get anything from this set-up. There is too much heat ahead of the front, even at that late hour…plus there might be an increase in the dew points (real muggy stuff) ahead of the front. There will be a lot of moisture in the atmosphere as well as the storms fire up and try to sag ESEwards.
I'm not promising KC gets dumped on…odds favor a decent area near and north of 36 highway to get the most rain from this…but we should get something locally. The storms though should be in the weakening phase as this occurs later Saturday night though.
The front will move through early Sunday…fall apart and south winds will return with the rebuilding heat starting Tuesday. As we transition to the rebuilding heat, additional storm chances will develop on Monday, although coverage won't be too great, and then we go back into the low>mid 90s for the rest of the week it appears…and that would include the holiday.
It's not a good looking moisture pattern through the 10th or so. The heat may not be extreme…but it will be grinding. Lots of 90s coming I think.
This looks about right…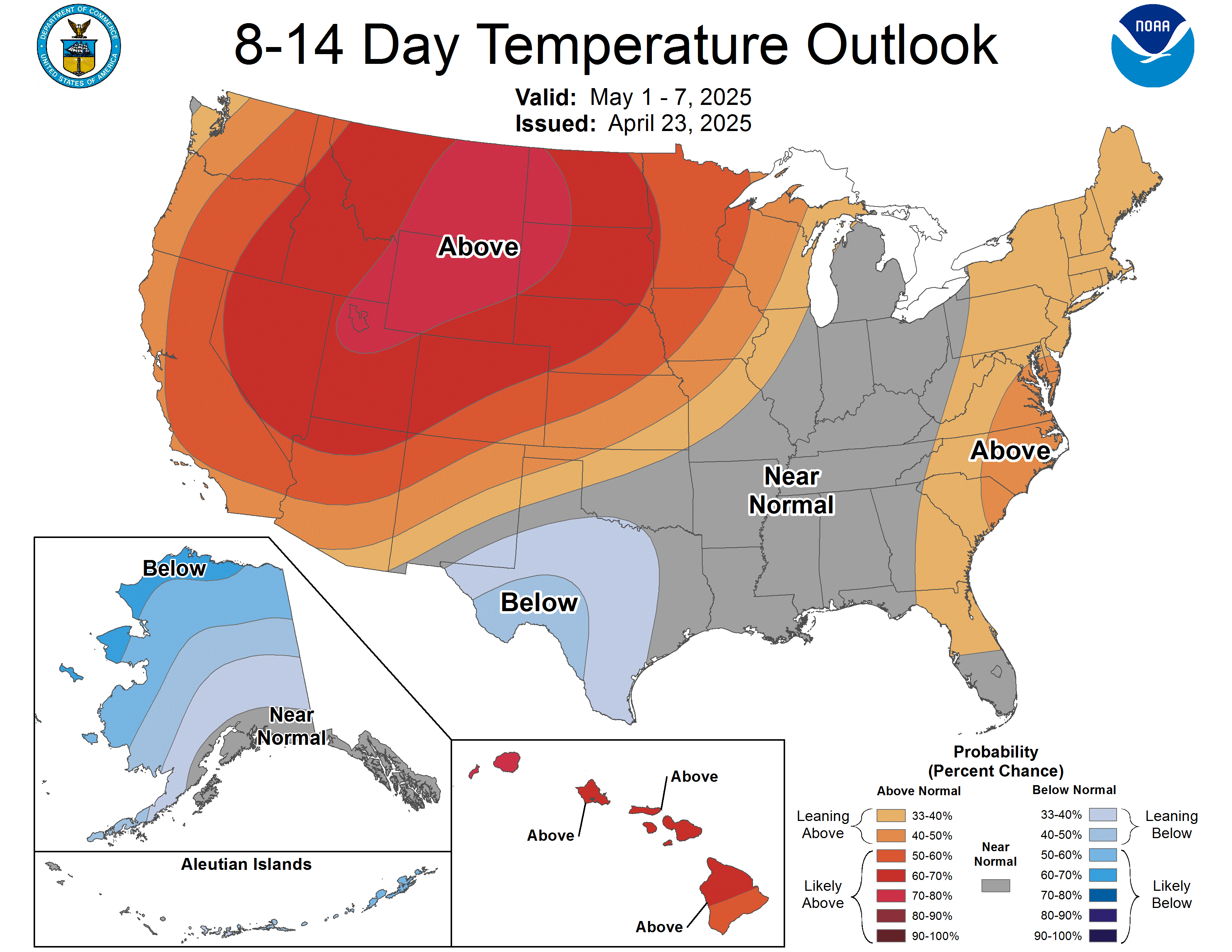 Joe