This is an archived article and the information in the article may be outdated. Please look at the time stamp on the story to see when it was last updated.
Our unusual Spring weather will continue as another stout blast of cold air is going to move into the area tomorrow afternoon, and as it does so another fast drop in the temperatures are expected tomorrow night into early Sunday. This has been well forecasted since last weekend and the high coming into the region has origins in the Arctic region so a sharp cooldown is expected. The good news is that with us now moving into the middle part of May, the sunshine and the higher sun angle will modify this airmass as it slides through the Plains states. Regardless a cold night with near record lows is still likely on Sunday AM.
Records are dropping this weekend with this cold airmass heading through the upper Midwest/Great Lakes and the NE part of the country. Here is a look at the low temperatures forecasted off the Hi-res NAM model for Sunday AM…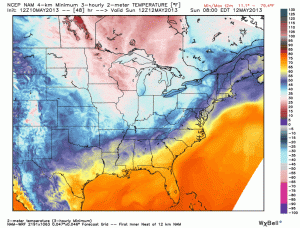 that's some pretty chilly air…click on the graphic to make it more readable. No doubt some record lows will drop. So far this month there have been 58 record low HIGH temperatures broken or tied, including a couple of KC…and 79 record lows broken or tied. That latter number should go up on Sunday and Maybe Monday as well for some.
Once this airmass moves away a nice push of summer will move in for Tuesday with our next decent shot of rain/storms possible on Wednesday.
We saw this graphic this AM on twitter and it really tells the story about how long it's been since we've had any real violent weather in these parts. The graphic shows how long it's been since this area was under a tornado warning. Technically it pertains to when the NWS in Pleasant Hill issued it's last tornado warning…and it's certainly been awhile! the data is from IA State!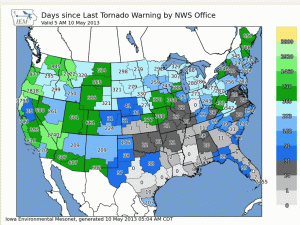 Look at the graphic carefully and you'll notice that it's been 368 days since the office that is responsible for most of our viewing area tornado warnings has issued on. I'm almost more surprised by our neighbor office in Topeka. They haven't issued one in 377 days!.
It's also a reminder that it's easy for you to let your guard down when it comes to severe weather and especially tornadoes. This has been the quietest 12 months when it comes to tornadoes nationwide
You need to remind yourself and you family about your safety plan! Heck for the state of IA it's been 351 days in a row with out a confirmed tornado. The record is 355 going back to 1955-56. That's pretty amazing. Also remember that all it takes is one big outbreak to change all these stats that we keep cranking out…so the bottom line is don't let your guard down!
Joe