This is an archived article and the information in the article may be outdated. Please look at the time stamp on the story to see when it was last updated.
It's really as if Mother Nature is teasing us…we've had a "cloud storm" going on now for the last couple of days combined with a drizzle/sprinkle storm that has lasted a few minutes at a time and aside from a couple of real storms with some locally heavy downpours it's been a frustrating time to watch the weather in these parts.
I had a feeling last night when I was watching these various complexes develop and move more towards the SE or even SSE and had a feeling today was going to be a frustrating day. So far it's panned out like that. We've had some sprinkles in the area, but aside from one cell across northern Platte County early this AM…so far things are lacking in the development situation. The clouds have also been reducing the temperatures which was expected. As of this writing temperatures are close to 80°. Here is a look at where the rain has been for the last couple of days…with the main areas west of the KC region and SW of us as well.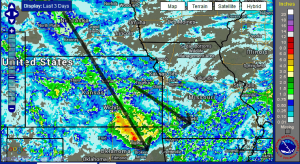 So as we approach 1PM and as I write this blog, there really isn't anything to focus development on this afternoon aside from heating and moisture. The boundary that was in the area yesterday has washed out…winds are predominantly from the south now and the sun is making more of an afternoon appearance.
At this point there really isn't anything of consequence on radar. Take a look from Pleasant Hill.
I expect to see a very minor uptick in development this afternoon, but odds favor more of a hit or miss type scenario as opposed to anything very widespread. I just see nothing as a focus mechanism for storms to fire on…very disappointing.
Where we go from here is still rather confusing…there are still opportunities for storms tomorrow, and the models (which have been atrocious) continue to paint storms later tomorrow evening associated with a weak disturbance/front in the NW flow aloft. It's certainly possible but at this point I'm not going to go with a very high chance. As the rain chances fade the temperatures should go up into the 90s again. Tuesday/Wedneday may see more of a NE/E flow of air, which should drop the rain chances further and keep temperatures around 90° or so.
The GFS model which has been disappointing to say the least in terms of the rainfall forecasts cranks out another 1-2″ over the next 5 days. It's not out of the question though, because in this feast or famine scenario, with the atmosphere being so juicy for the next couple of days, IF something can fire, it would produce a bucket of rain very fast!
Some good news about all this, I really don't see any signs of any extreme heat heading this way. So far the highest temperature for KC has been 98° on 7/9 and at this point I don't see any 100° days heading this way for the rest of the month at least.
For those frustrated by the "lack" of rain…I feel your pain. For a few of you who are frustrated by being told "the rain is coming"…the "rain is coming" I get it. As I mention when these things start to set up in this way, it's very difficult to forecast things that don't exist. I've been a bit more negative these last couple of days but by the same token I really thought we'd have a bit more activity that what we've had. Hopefully this will change sooner rather than later. All these drizzle/sprinkle storms are getting old fast!
Joe