This is an archived article and the information in the article may be outdated. Please look at the time stamp on the story to see when it was last updated.
I wasn't expecting much out of this little system last night and it even underperformed those low expectations. Some areas had a minor dusting of snow, but for the most part aside from some sleet and snow flakes, there hasn't been much going on so far this AM and overall while it will be a raw and blustery day, it could be worse. As I mentioned yesterday, odds are today will be the coldest St Pat's Day since the early 1990s.
While the cold weather is a downer for today's parade, heck it could be a lot worse. check out these temperatures across the northern Plains this AM…readings are not only sub-zero, but are close to 20-25 below zero closer tot eh Canadian border.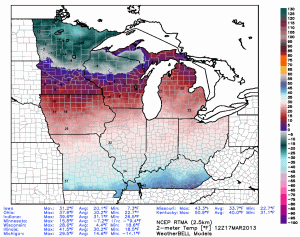 Here is a look at the surface map, as usual the temperatures are in RED…and you can really see how cold it is up there especially.
It's still really cold up there because of a combination of snowcover and cold air that have sent temperatures plummeting. Nationwide roughly 27% of the country is still under a blanket of snow this AM…
By the way, last year on this date there was only 9% snowcover, so we have about 3 x's more snow on the ground than last year on this date
The focus of the blog will be temperatures, and where their going for the rest of the month, which is not upwards really. First though let's again compare this March to Last March (a month that was 14° above average. If you run a business that is weather sensitive and you need folks to be out and about doing things to sustain and increase your business…this has not been a pretty sight for the last several weeks.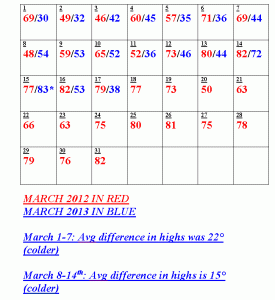 It really is a stark contrast from year to year. Our average temperatures this month are running almost 4° below average and it's something that won't improve much over the next 7-10 days or so although we should see at least some moderation as we enjoy a bit more sunshine. The mid-late March sun angle should help the cause somewhat for a few days early this week.
Here is a look at the EURO model showing the average temperature anomalies for the next 10 days in °C. Now to make this more relevant to you, look at the scale to the right and think about the scale this way, when temperatures are forecasted to be 5°C below average, that equates to about 9°F below average…you double that for 10°C which equates to 18°F. You can clearly see that while the core of the coldest weather compared to average will be across the western Plains through most of the next 10 days…it's still not exactly a warm look for our region at all! This model is from yesterday but I haven't seen much to change that opinion so far today. Hopefully towards the last few days of the month the cold air will have run it's course as the western part of the country starts to warm back up and some of that warm air starts to migrate towards the Plains before the beginning of April…hopefully.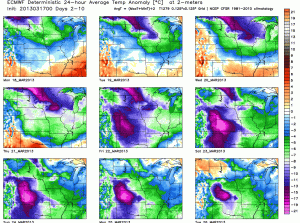 The upside to the cold weather is that this will keep our severe weather chances near 0 til further notice.
That's it for today…have a great St Pat's Day and remember to be responsible if your out and about this afternoon/tonight.
Joe