This is an archived article and the information in the article may be outdated. Please look at the time stamp on the story to see when it was last updated.
Another day with nothing to really spend a lot of time writing about…but there are a few things that I wanted to share with you so let's get right to it.
1) This cool weather pattern continues today: Though we should start to moderate heading towards the weekend…temperatures again today will be below average. With clouds blocking out the sunshine, highs again may struggle to get to 70°. For N MO where the clouds are thicker and more extensive, highs really will struggle. We're running 2.8° below average for May so far…and today will add a bit more to the below average departure for the month. The latest satellite picture (courtesy: NEXLAB) shows the extent of the clouds…
Those clouds are drifting to the south, breaking up somewhat on the leading edge…this is a pretty chilly airmass in place in the Plains states. Take a look at how temperatures @ 9AM compared to average.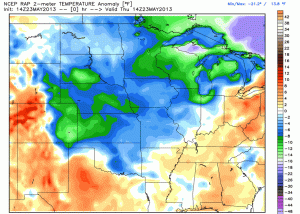 That's some pretty chilly air in W MI as well where temperatures are in the mid-upper 30s this AM…brrr!
2) Moore, OK: This AM was pelted by heavy rain and hail. Rain amounts thus far have been 2-4″ …what a mess for sure. As I type this OKC is under a Severe T/storm Warning. Just adding insult to injury. A Flash Flood Warning is in effect for that area this AM.
Some great research this AM from Patrick Marsh who works 2 SPC I believe…take a look at all the tornadoes that have been in the Moore, OK area since 1950. By his calculations there have been 220 (!) tornadoes within 25 miles of Moore since 1950!
I don't believe that includes this year's tornado on that graphic. That is just unbelievable!
Warren Faidley, one of the 1st storm chasers that I remember hearing about back in the day was there as well and posted some images of the destruction in video form. Take a look.
The folks from Google came up this this VERY impressive "crisis" map highlight the damage from above of the Moore area…this is a must see link in my opinion because you have a lot of interactive controls to get an idea of the scope of this disaster.
3) Weekend forecast: One suggestion…have a Plan B ready…really at any time from Saturday through Monday. I was hoping SAT was going to be just fine…but there are strong indications that at least some rain will be in the area. The flow aloft is going to be weak, but there will be disturbances trickling through the region and those disturbances will set of showers/storms. Odds are not severe but may become a nuisance none the less. Impossible to really narrow down the timing on this. So we'll just have to watch radar together to figure things out. Storms will fire, send out various outflows and then those outflows will fire off new convection.
Enjoy the cool weather and have a great Thursday.
Joe