This is an archived article and the information in the article may be outdated. Please look at the time stamp on the story to see when it was last updated.
Well today is the last day of astronomical winter…spring begins at 6:02 a.m. tomorrow morning (WED) and while the weather tomorrow will be better than today, winter is not done with us yet and there is still all sorts of cold weather expected for most of the remaining days of March.
Think about this, last March (2012) average temperatures were more than 14° above average…so far this March, average temperatures are running 4° below average and today won't help the cause at all, nor for that matter will the next 7-10 days. So at least through today, average temperatures are running 18° colder from March to March. Meanwhile in Topeka, it's about 16.5° colder…a pretty amazing switcheroo for the Plains states for sure. I'll be writing more about this over the next couple of weeks.
Meanwhile today a band of flurries to moderate snow has developed on the KS side and spread down towards the ESE and has, in places, dumped some decent snow. Meridan, KS has had 3″…also there is a report of 3″ just SE of Hoyt, KS. About 4 mi NE of Topeka there has been 1.7″ and Topeka has had .8″…but closer to home everything seems to have melted off nicely. While wet, the pavement is holding it's own in the areas where the snow is falling. Air temperatures are 32-35° which combined with a Mid March sun angle is saving our bacon a bit.  here is a look at a radar loop from the NWS in Pleasant Hill.
There are some rain drops mixed in with that activity, especially on the far south side of that area of precipitation.
The focus now will shift towards Thursday and then the weekend. The Thursday situation continues to look more promising for an accumulating snow but this will be a weird one to figure out and as a result there is some question about who may see the heaviest snow. While at this point it does not look like the heaviest band will set up in the metro, and plowable snow is possible.
I want to show you the wind field at 850 mbs (or about 5,000′) up…and notice how the strong winds at that level are poking right into the KC area.
That is what we call a low-level jet, during the spring and summer should other factors come into play, we'd be talking about t/storms but since the lower part of the atmosphere will be cold enough, now we're talking about snow. It does appear that the best "forcing" or lifting of the atmosphere will shift more towards SE KS and SW MO as the day moves along. With that said, again the potential for snow accumulations will certainly be there and we're thinking that 2-5″ will be possible in about a 100 mile band. The snow would develop just to our SW Tuesday AM and quickly move E and NE towards the KC Metro.
So with all that said, here is where the models are, in terms of forecasting the snow amounts…at this point I don't see a real reason to deviate from their general ideas and I think you can see that areas to the NE of the metro may not see much at all from this weird situation in a sense. The other thing that I'm starting to wonder about, as I alluded earlier, with this set-up, we normally would talk about thunder as well…maybe there could be some thunder on Thursday too, especially at the onset of the event.
Here is the NAM Model
Now the GFS model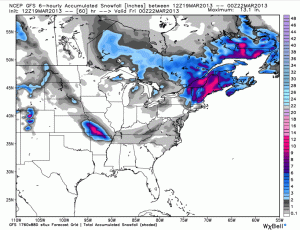 Now the Canadian Model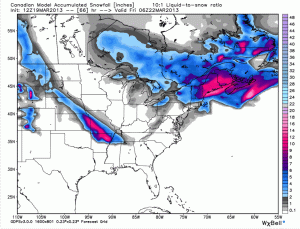 Here is the EURO…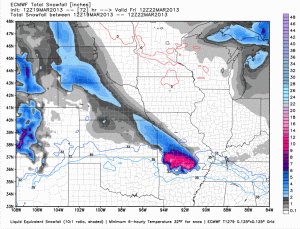 and finally the HI-RES NAM forecast…which zooms into out local area.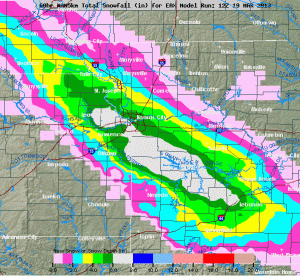 Then over the weekend, the main part of the storm will affect the region, and there are many questions about that track as well. Should there be a surface low moving through the Plains states, it would have the ability of pulling in enough warm air to give us a mostly liquid event with perhaps some tail end snow on the back side of the storm. Should the surface low and upper level core of the storm go by to our south, then that warm air wouldn't get to us and we'd be vulnerable to more snow accumulations in the Winter that just won't give up!
The storm in question is the clump of energy/clouds of the coast of NW Canada.
It will go through various evolutions and in all honesty I'm not really sure how this will play out over the weekend. With that said though, we should be prepared for another accumulating snow at some point over the weekend.
That's it for today…lot's of kids on spring break this week, but some aren't and they may sneak in a snow day before the week is done.
Joe