This is an archived article and the information in the article may be outdated. Please look at the time stamp on the story to see when it was last updated.
Such a sad day yesterday. The power of tornadoes and in particular one tornado was on full display and sadly once again Moore, OK was the target for at least an EF4 strength tornado, which may be upgraded today or tomorrow to the rare EF5 tornado. An EF4 tornado has winds between 166-200 MPH. One thing that struck me was the slow movement associated with tornado.
The NWS did it's best. This tornado DID NOT strike without warning. There was a warning issued for that area 30 minutes ahead of time and then again 16 minutes ahead of time. The problem with such violent tornadoes, like what happened in Moore and for that matter Joplin and Tuscaloosa, is that there is nowhere safe to go except underground or perhaps in a concrete reinforced storm shelter. These things happen. Their relatively rare in terms of the extremes and one only hopes they occur out in the middle of nowhere and not in communities, which sadly did not happen yesterday.
Moore has been hit in the past…back in 1999 they were hit by a tornado that had the strongest winds ever record with a tornado before of 301 MPH. These winds were recorded by the DOW (Doppler on Wheels) and were recorded some 105 feet above the ground. It was an F5 tornado at the time.  In 2003 Moore was hit again by an F4 tornado in May of 2003. Then finally another incredibly strong tornado hit yesterday. Here is an link to an interactive map showing the comparison of the tracks of those 3 tornadoes.
There are all sorts of videos running around on youtube so check some of them out if that interests you. I did cull couple that I thought were noteworthy.
This first one shows the development of the tornado itself and as it moved towards and into the Moore area from Charles Cook.
Here is a different way of showing the life cycle of the tornado. It's a video compiled from WMC-TV in Memphis showing a time lapse of the tornado. It's important to remind you that this is a fast motion video and not a real time look at the tornado.
Finally the folks from tvnweather.com captured the tornado as well. Storm chasers David Demko and Heidi Farrar shot this video.
There were "only" 18 reports of tornadoes yesterday, so really not a "big" outbreak but it does show that it only takes one tornado to alter a communities life for many years to come…again.
At this point the death toll (which sadly may rise) is at 24 which is a major revision from earlier as apparently OK authorities were double counting people by mistake (or something like that) and not close to approaching the top 10 deaths from a tornado since 1900 if true.
— 695 deaths. March 18, 1925, in Missouri, Illinois and Indiana.
— 216 deaths. April 5, 1936, in Tupelo, Miss.
— 203 deaths. April 6, 1936, in Gainesville, Ga.
— 181 deaths. April 9, 1947, in Woodward, Okla.
— 158 deaths. May 22, 2011, in Joplin, Mo.
— 143 deaths. April 24, 1908, in Amite, La., and Purvis, Miss.
— 116 deaths. June 8, 1953, in Flint, Mich.
— 114 deaths. May 11, 1953 in Waco, Tex.
— 114 deaths. May 18, 1902 in Goliad, Tex.
— 103 deaths. March 23, 1913, in Omaha, Neb.
Despite what has happened over the last few years, tornadoes this strong have not been as common in these modern times as opposed to the past. There were actually more of these "violent" tornadoes in the 50s/60s/70s compared to today according to the SPC.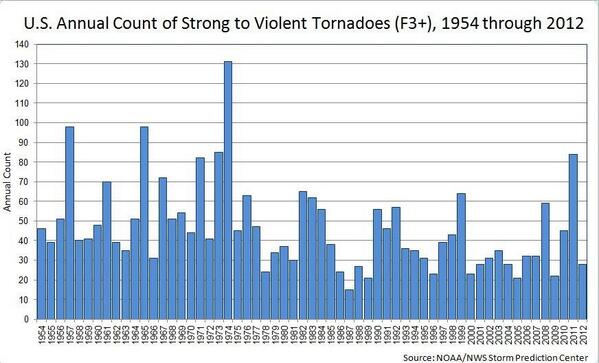 and finally a look at the radar from the Moore area showing the storm moving through courtesy of @bryanwx on Twitter. Notice how it "eats" a cell that was moving from the southwest towards the tornadic circulation. The circulation is near the I-44 marker in the lower left and moves ENEwards and then eastwards after it "eats' the cell to the south…interesting.
Our weather will be settled for the rest of the week with comfortable lows and highs for this time of the year.
Have a good day and if nothing else, work and remember your safety plan should something like what happened yesterday in OK happen closer to KC.
Joe