This is an archived article and the information in the article may be outdated. Please look at the time stamp on the story to see when it was last updated.
For complete details about the "Supermoon" see yesterday's blog for additional details.
The day has dawned with quite a bit of sunshine out there and while, as of this writing the clouds are fewer compared to yesterday and while the cap isn't quite as strong as it has been over the past couple of days, with a lack of any convergence boundaries out there storm chances look to be nil for most of the region.
Tomorrow should be the last day of the summer-like heat and humidity with highs again expected to be in the 85-90° range, perhaps a few degrees cooler across NW MO. A cold front will be entering the picture first thing in the afternoon and will at best slowly work itself through the region through Monday AM. This front will be the key to our rain chances.
In reality this is sort of a weird set-up for early May. The front isn't exactly blasting through and the wind fields tomorrow are really weak. To me it's almost something aloft like you'd see in mid-summer in a way. The flow below 18K feet is under 30 MPH for the most part. So whatever happens tomorrow, while in some areas may be locally severe, may just be more of a heavy rain producer in parts of the area. Here is the surface forecast off the NAM model for 1PM tomorrow.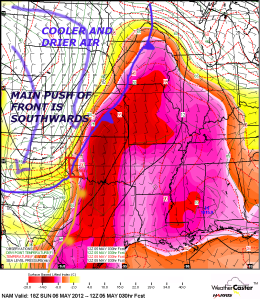 Initially the main push for this front will be more towards the Southern Plains/Panhandle areas as opposed to the MS Valley region. All that RED you see on the map represents instability and with a front moving through and a cap that will be weakening as/after the front moves through, the ingredients are certainly there (heat/moisture) to fire some decent+ storms.
Tomorrow evening will be a classic case of remembering that there is more to the weather than what happens just here on the surface. Since the initial push of the front will be so surface based, the convergence through the atmosphere will be lacking. Let's now go up to about 5K feet and show you where the front is located at 7PM Sunday night…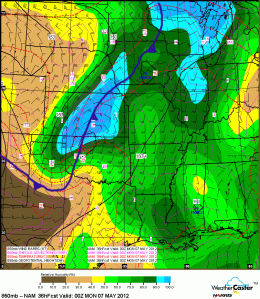 Still way out there. So until that front at that level moves through, the rain chances will linger, potentially though rush hour MON AM especially the farther SE you go. Here are the forecasted rain totals off the NAM model.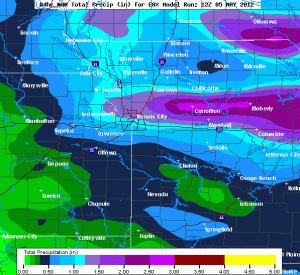 That's a pretty good chunk of 1-2″ rainfall potential along the I-70 corridor, including all the metro area.
The SPC has adjusted the risk of severe weather to include the metro for tomorrow PM.
It'll be something to watch at least through the weekend. Have a great Saturday.
Joe