This is an archived article and the information in the article may be outdated. Please look at the time stamp on the story to see when it was last updated.
First of all, thank you for reading my tribute to Don that I have kept as my featured blog for the past couple of days. I really didn't know how long to keep it up there, and with everybody's lives so busy, how long to feature it. It will always be available to you (and me) by just clicking here. I want you to know that I read ALL your comments on the blog page and many of your comments on the FB pages and I thank you for all your thoughts and support, not only for myself but also for all my co-workers.
So let's talk about something that is much more comfortable for me to write about, and that would be the weather. The rains from yesterday have moved away and in their wake, amounts ranged from about 1/2″ to 3/4″ towards the SE of the metro to a pretty solid 1″ average for the metro to a 1 1/2″-1 3/4″ average for NE KS and parts of NW MO.. Here are some of the specific totals starting in the Northland and moving southwards. Click on each image to make it larger.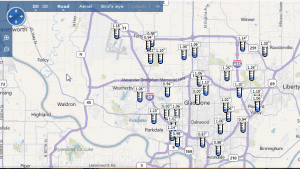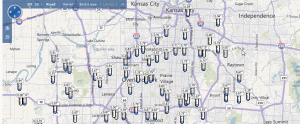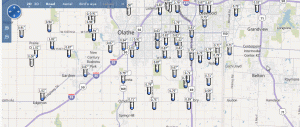 We had a all rain event here, there were an few flakes of snow in NW MO and NE KS on the tail end of this system. Farther to the NW there was more snowfall. It shows up on the satellite imagery this afternoon as a NE to SW stripe of white in IA-NE-KS. Take a look.
The NWS in Omaha generally reported 3-6″ totals for E NE…
Here is a closer image courtesy of the NWS in Hastings, NE…
The focus for the week will be on the chilly temperatures as it looks like every day will be marked by below average temperatures. There may be one exception on Thursday but overall it will be chilly for awhile. For those that are waiting on the first snows of the season, it appears that we're going to have to wait, and perhaps for awhile, as not only is the week looking chilly, but it's also looking dry. As a matter of fact we may not see any worthwhile rain/snow chance through the middle of the month. We'll be vulnerable to repeated chilly shots of air, but nothing that will really be that unusual for this time of the years. The strongest push looks to occur on Friday, however there may a a couple of mornings where the lows drop into the teens, again pretty typical for this time of the year.
Speaking of lows, that snowcover up towards the NW of here meant some quickly falling temperatures in NE early this AM. Lows were in the 0-5° range, while outside the snows the lows were in the 20s and 30s. It's just a reminder of what happens when you have snow on the ground and light winds.
For those who don't read my blog posts often, I like to get into statistics concerning our weather information. As you know our winter forecast was for less snow than the last couple of years and if you've read my posts about 7 days ago I was starting to get concerned that we still may be overshooting things. I want to give this another couple of weeks to see where we go after another long dry stretch but again it's very possible we may create a revised forecast towards the first day of Winter. Mike and I continue to talk about that potential.
With that said, I thought I thought we'd look at how the last 3 years have stacked up in terms of when the snow accumulated throughout the snow season here. I basically picked the 1st and the 15th day of DEC to APR to see how much snow had accumulated. For example on 1/1/11 (last year) we had received 2.9″ of snow so far that season. On 3/1/10 we had received 35.5″ so far…Lets take a look….
                          Last Year           2009-2010_        2008-2009
DEC 1st                 0″                         1.2″                     .9″
DEC 15th               2″                         5.6″                    1.7″
JAN 1st                 2.9″                      16.3″                   7.1″
JAN 15th              10.4″                     23.3″                   7.1″
FEB 1st               20.2″                     23.7″                   8.0″
FEB 15th             30.3″                     27.6″                   8.1″
MAR 1st              36.5″                     35.5″                  13.3″
MAR 15th            36.9″                     35.5″                  13.3″
APR 1st              36.9″                     44.3″                  14.6″
APR 15th            36.9″                     44.3″                  14.6″
Interesting to note that in last year's snow season through 1/1/11 we had received less than 3″ of snow and ended with close to 3 feet by the time winter was done. It just shows you how things can change around these parts.
Joe