This is an archived article and the information in the article may be outdated. Please look at the time stamp on the story to see when it was last updated.
A weak front is going to move into the region this evening, and while in many May's this front would have adequate moisture to work with, and with an uncapped atmosphere would be enough to fire some t/storms, that may not be the case today because the surface moisture is going to be paltry at best with dewpoints in the 50°. The front itself is VERY weak, and will only drop out highs tomorrow a few degrees. Here is the surface map from early this AM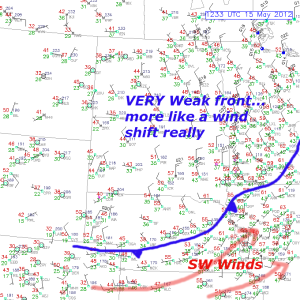 As the front moves through this evening, odds favor it to come through dry.
after today there really is no weather of consequence till the end of the weekend when a stronger front will push into the region. This front on Sunday will have a bit more moisture to work with, more heat in front of it and the potential for some small disturbances to ripple up from the Southern Plains as well, all conspiring to give us our better chance of some rainfall in the region. Coverage is still a question so I'd run the sprinklers which is what I'm planning to do today/tonight.
Thought I'd take a look and see how the month of May is doing thus far, now that it's about 1/2 done and we're again very warm. Through yesterday temperatures are running almost 5.5° above average. That number should be on the increase through the weekend as a warming trend settles into the area as talked about for quite some time beforehand. Eventually by FRI/SAT highs should be well into the 80s. Again for all the reasons why a few weeks ago we didn't hit 90°, namely the "greenness" of the landscapes out there, we should avoid 90° at KCI at the very least.
Something sort of noteworthy. Yesterday the season's first tropical system developed in the eastern Pacific ocean. The storms name is Aleta and is the 3rd earliest E Pacific tropical storm to ever form.
It's that swirl of clouds south of Mexico. Aleta should be a "no big deal" storm as it moves harmlessly to the WNW and eventually fades away by the weekend. Today, by the way, is the "official" start of the hurricane season int he Eastern Pacific. The Atlantic side waits till June 1st.
That's it for today, enjoy this beautiful weather!
Joe