This is an archived article and the information in the article may be outdated. Please look at the time stamp on the story to see when it was last updated.
It's no secret that the winter has been awfully quiet for most to the country. What I started to notice though is that there are parts of the country starting to get a small taste of winter that haven't had winter so far. In other words, it's been so snowless, that now it's getting less snowless. Whether or not that means anything for us down the road we'll see.
The storm in question won't be affecting our area. This is the same storm that pelted the southern part of the country from I-40 southwards over the past couple of days, that is now taking aim on the Virginia's and parts of NC. This should be a heavy wet snow producer for a small area back east. Click on these loops to make them larger.
You can see the storm moving up into the SE part of the country. It was a prolific rain producer and even created some severe weather yesterday along the Gulf Coast.
Today the focus though is on the snow that will be generated, with high probabilities of 4″ snows in the area outlined below. With potential for more than that as well in some areas outlined too.
It looks like Southern/Western VA and NC/NW NC will get the brunt of this storm.
Meanwhile out west another storm will be moving through today creating some nice mountain snowfall in the Rockies which is almost always welcome. That storm will be our next change in the weather here, and already moisture has moved into the Western Plains region depicted by the cloud cover to the west of the area.
The storm responsible for this is located near Salt Lake City and will be moving towards the region tomorrow. As it does so it will rapidly increase the cloud cover tomorrow AM and from the clouds there will probably be some rain developing on the KS side that should move NNE as the whole area translates eastward. This makes timing the rain tougher, because it's very possible areas from Topeka to Rockport, MO have some AM rain, while farther eastwards we stay dry. Eventually though, as the whole area moves east, we too will get into it. the timing at this point would be later tomorrow PM into tomorrow night. At this point the amounts don't look overly impressive, odds favor under 1/4″ or so. There may be a few rumbles as well. especially on the KS side.
From a temperature standpoint, there is the potential of warmer weather than what I've got in the forecast. Right now I'll shoot for 50-55°. IF we can manage to get more sunshine in the AM, with SSE winds gusting to 30 MPH there is upside potential for tomorrow. My concern though would be the cloud cover throughout the day.
Tuesday/Wednesday should be great and there is some real warm potential on WED depending on the amount of downslope warming that can occur. The latest EURO suggests highs could surge into the 60s. The GFS is trying to go there as well before cooler air returns to the region on Thursday.
Rainfall amounts with the system tomorrow, as mentioned don't look overly impressive.Click on the following graphic to make it larger.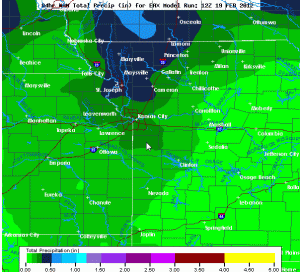 Finally some statistics. I've received more than a handful of kind emails concerning the weather blogs and for that I thank you. Many concern the love I have about writing about statistics in analyzing our weather. I think they can help put things in perspective.
The reason behind this next subject is that I noticed yesterday that my Pear tree in the front yard has started to bud out a bit more over the past couple of days. I'm not sure if this picture will do it justice, but the buds are definitely emerging. Click on that image.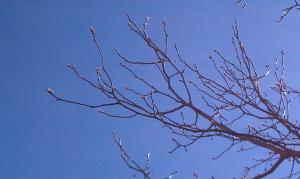 So how are we ranking so far this winter. Well with about 10 days to go, this winter, if it were to end today (DEC 1-today) would rank in 9th place. There have been numerous ties in some of the other warm winters, in other words several winter seasons have had the same average winter temperature. So this winter would be the 14th warmest I guess you can say (if that makes sense). So far our winter season average is 35.4°.
Recent really warm winters, that are warmer than this winter season would be in ascending order…
1999-2000 (36.0°)
2005-2006 (36.1°)
2001-2002 (36.1°)
1997-1998 (36.2°)
1991-1992 (37.2°)
The warmest winter season is 1931-32 with an average temperature of a whooping 39.1°
Have a great day and I'll update the blog again tomorrow morning.
Joe