This is an archived article and the information in the article may be outdated. Please look at the time stamp on the story to see when it was last updated.
KANSAS CITY, Mo. — Teen and young adult suicides are an alarming fact of life.
In just the first month of 2018, two students at Shawnee Mission Northwest High School took their own lives. Another student at Lee's Summit West did as well.
It's alarming because the trend is a frightening one: In Missouri last year, health departments logged at least 17 suicides in the 19 and under age category in Jackson, Cass, Clay and Platte counties. That total balloons to 43 in 2017 in the 25 and under demographic.
In Johnson County, Kansas, through November 2017, eight teens under the age of 19 took their lives. That's up from six in 2016.
One suicide expert told FOX4 the suicide attempt rate nationally is 100-200 to 1 for those 17 years old and under. With the Johnson County numbers, that would extrapolate to 800-1,600 attempts.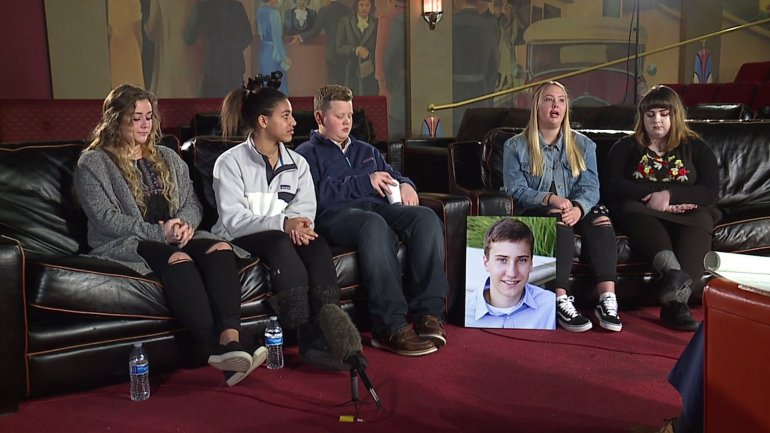 With the numbers of teen suicides growing, FOX4 decided to go to the front lines. We wanted to hear from metro teens who had attempted suicide, had contemplated suicide, knew someone who had attempted suicide or who had taken their own life.
The result was a panel of five teens from different schools, sharing their experiences, emotions, mental health issues and even advice to an older generation on what to do and what not to do.
In a wide-ranging conversation at the Screenland Armour Theater, the teens held nothing back. Watching in an adjacent theater were some of their parents and some mental health professionals.
FOX4's story attempts to distill the more than an hour-long conversation while also covering a variety of topics important to them and to society.
---
Phone and text lines:
Crisis Text Hotline: Text Kansas or Missouri to 741741
Johnson Co. Mental Health Center Crisis Line: 913-268-0156
National Suicide Prevention Lifeline: 800-273-8255
Steve Fund: Created a special keyword, STEVE so young people of color can text 741741 to connect to a trained crisis counselor
StrongHeart: 844-762-8483 — This is a culturallyappropriate, confidential, free hotline for Native Americans impacted by domestic violence and dating violence. The phone is answered from 9 a.m. to 5:30 p.m. Monday through Friday
Trevor Project: 866-488-7386 — This 24/7 crisis intervention and suicide prevention line is focused on LGBT youth. Call anytime. The text line is available from 4–8 p.m. EST/1–5 p.m. PT on Thursdays and Fridays by texting "Trevor" to 1-202-304-1200. The service also includes an online chat room seven days a week from 3–9 p.m. EST/noon–6 p.m. PT.
Trans Lifeline: 877-565-8860 — This is primarily for transgender people experiencing a crisis. The hotline is staffed by transgender people.
Text-A-Tip Hotline: Students can download the free mobile app, P3 Tips, to their phones. The text goes to Crime Stoppers, which passes on the information to the school principal or resource deputy. This app is available citywide.
Websites:
Warning signs of suicide: 
If you or someone you know exhibits any of these signs, immediately call a mental health professional or the National Suicide Prevention Lifeline at 1-800-273-8255:
Threatening to hurt or kill oneself or talking about wanting to hurt or kill oneself.
Looking for ways to kill oneself by seeking access to firearms, pills, or other means.
Talking or writing about death, dying, or suicide when these actions are out of the ordinary for the person.
Feeling hopeless.
Feeling rage or uncontrolled anger or seeking revenge.
Acting reckless or engaging in risky activities — seemingly without thinking.
Feeling trapped — like there's no way out.
Increasing alcohol or drug use.
Withdrawing from friends, family, and society.
Feeling anxious, agitated, or unable to sleep or sleeping all the time.
Experiencing dramatic mood changes.
Seeing no reason for living or having no sense of purpose in life.
Suicide is 100 percent  preventable if you know the signs and take action.
Be aware. Learn the warning signs.
Get involved. Become available. Show interest and support.
Ask if he/she is thinking about suicide.
Be direct. Talk openly and freely about suicide.
Be willing to listen. Allow for expression of feelings. Accept the feelings.
Be non-judgmental. Don't debate whether suicide is right or wrong, or feelings are good or bad. Don't lecture on the value of life.
Don't dare him/her to do it.
Don't give advice by making decisions for someone else, or by telling them to behave differently;
Don't ask 'why'. This encourages defensiveness.
Offer empathy, not sympathy.
Don't act shocked. This creates distance.
Don't be sworn to secrecy. Seek support.
Offer hope that alternatives are available, do not offer glib reassurance; it only proves you don't understand.
Take action! Remove means, likes weapons or pills.
Get help from individuals or agencies specializing in crisis intervention and suicide prevention.
– Source: Coalition for Suicide Prevention
Find even more resources on FOX4's You Matter page.